Cross-country rail services resume after disruption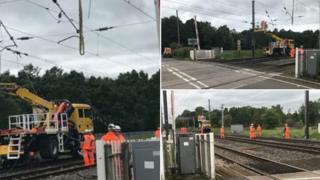 Rail services between Scotland and England have resumed after a fallen tree closed the west coast main line north of Carlisle.
Passengers had faced lengthy delays and cancellations while Network Rail sent engineers to the site attempting to repair the damage.
Virgin Trains said it was impossible to use the east coast main line as an alternative due to disruption.
Network Rail have since confirmed both main lines are up and running.
A spokesman said delays would continue throughout Wednesday evening but services would return to normal on Thursday.
The problems on the east coast main line were caused by damage to overhead lines and a fatality near Newcastle.
Earlier, passengers on one train leaving Edinburgh Waverley reported a four-hour delay and overcrowded carriages.
Virgin Trains said the services on the west coast main line were delayed as a result of the fallen tree between Carlisle and Lockerbie.
It was reported to Network Rail at 10:00 and engineers spent the day cutting back vegetation and repairing overhead wires which were damaged.
The disruption also led to long queues at Carlisle station.
A spokesman for Virgin Trains said: "The closure of our route to Scotland is causing significant disruption and we want to apologise to all our customers affected by this.
"We're doing our best to help people complete their journeys but would advise anyone who has not set off on their journey to either wait until the disruption has cleared, travel tomorrow or get a refund."
It came as the Met Office issued an amber warning for heavy rain which could cause flooding and transport disruption to south east Scotland.