Nicola Sturgeon: 'We owe D-Day generation so much'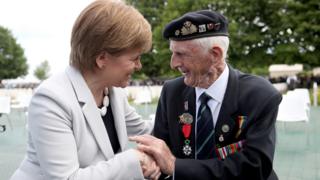 First Minister Nicola Sturgeon has attended remembrance services in Bayeux, as part of events marking the 75th anniversary of D-Day.
Bayeux was the first city in France to be liberated after the invasion on 6 June 1944.
After services at the cathedral and war cemetery, Ms Sturgeon tweeted: "What a privilege today in Bayeux to meet 95-year-old John from Dumfries.
"He was shot through the arm as he landed on Sword beach on D-Day."
She said: "We owe so much to John and his generation."
Scottish Conservative leader Ruth Davidson tweeted: "75 years ago 156,115 young men huddled onto landing craft, arrived in Normandy.
"They waded through sea and blood and fallen comrades to make towards the sound of the guns. Their courage secured our freedom."
Scottish Labour leader Richard Leonard tweeted: "Today is a day for reflection on the sacrifice and the bravery of those who liberated France and so Europe from the iron heel of Nazi occupation," while Scottish Liberal Democrat leader Willie Rennie tweeted: "We owe them so much."
The D-Day landings marked the start of the campaign to liberate Northern Europe from Nazi occupation.
The landings on the beaches of Normandy were the largest seaborne invasion in history and laid the foundations for the Allied victory in World War Two.
By nightfall on the day of the invasion, British units had reached the outskirts of Bayeux and on the following day it was liberated.
Bayeux is home to the Commonwealth War Graves Commission's Bayeux War Cemetery that contains the graves of men originally buried on the battlefields and of those who died in military hospitals in the town.
The cemetery was completed in 1952 and is now the final resting place of more than 4,100 Commonwealth servicemen, of whom nearly 340 remain unidentified.
Former Scottish soldiers, all in their 90s, were part of a 300-strong group of D-Day veterans in Bayeux to join the commemorations, which also included events seven miles away on the coast at Arromanches.
Events began at 06:26, with the tradition of a lone piper playing on the remaining Mulberry artificial harbour in the town, named Port Winston.
The tune signalled the time at which the first British soldier stepped on to Gold Beach at the beginning of the D-Day landings.
It was played by Pipe Major Trevor Macey-Lillie, of 19th Regiment Royal Artillery (The Scottish Gunners).
Pipe Major Macey-Lillie, from East Ayrshire, played Highland Laddie, a tune based on a poem by Robert Burns.
Speaking after his performance, Pipe Major Macey-Lillie said: "That was nerve-wracking to do but I feel very proud and it was a privilege to do it."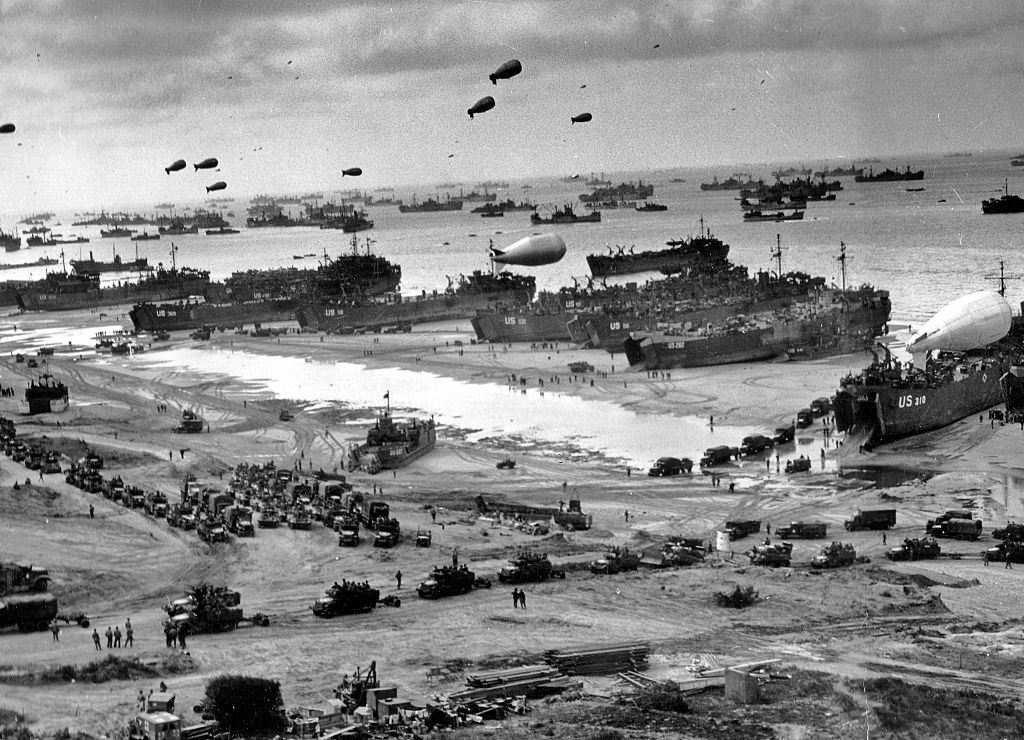 Getty Images
D-Day landings
156,000allied troops landed in Normandy, across

5 beaches
7,000ships and landing craft involved and 10,000 vehicles

4,400from the combined allied forces died on the day

4,000 - 9,000German casualties

Thousandsof French civilians also died
Pipe Major Macey-Lillie paid tribute to Bill Millin, who had been a piper during D-day.
"He encouraged his brothers-in-arms to get off the beach while playing Highland Laddie," he said.
"The Germans thought he'd lost his mind and left him alone. He was marching up and down the beach, only armed with his bagpipes and a knife in his sock."
Pipers were officially banned from the frontline in WW2 because of the number of casualties in World War One.
But Brigadier Simon Fraser, 15th Lord Lovat, commander of 1 Special Service Brigade, defied the order and brought Private Millin, his personal piper, with him on D-Day.
Meanwhile in Edinburgh, veterans, many in uniform, attended a service at the French Consulate organised by armed forces charity Legion Scotland and The French Consulate General.
D-Day veteran Jack Adamson, 100, from Falkirk, said: "I lost a few pals, it's them that should be getting the glory - if that's the right word."
He said: "The boat we were on did not get into the shore, so they put rope ladders down the side of the ship and we climbed into the sea.
"It was alright if you were 6ft tall, but I was 5ft 5ins. You had your rifle above your head, your backpack on, you had two live grenades in each pack - it was quite a struggle to get to the beach."
Full of awe
D-Day veteran Jack MacMillan, 101, from Edinburgh, who was a major in the Royal Artillery, said he will never forget that day.
He said: "You're full of awe, first of all, of what is going on.
"Then you have moments where a shell just misses you or something and you are grateful to be still here - that it's one that missed you.
"At the end of the day, you're doing a job and the objective is to achieve what you set out to do."
During the service, the Knight of the Légion d'Honneur Cross - which is the highest French order of merit for military and civil endeavours - was presented to four veterans.
They were Leonard Humphrey, Eric Tandy, David Livingston, and David Duguid.
Mr Tandy, 95, from Glenrothes in Fife, served with the 7th Battalion The Parachute Regiment.
He was accidentally dropped behind enemy lines on D-Day.
He tried to make his way back to his own regiment through a minefield only to be captured by the enemy and held half-starved in a prisoner-of-war camp.
Mr Tandy told BBC Scotland that during the early stages of D-Day he had been in an aircraft carrying paratroopers to take part in the famous Pegasus Bridge campaign, whose strategic purpose was to secure river crossings for troops landing on the beaches and to reduce enemy defences.
However, as they were flying towards the bridge a medic on board the plane was hit by anti-aircraft fire.
The delay made Mr Tandy overshoot his jump by 10 miles and he landed beyond German lines and had to try to make his way back.
He was captured by German soldiers and taken to a POW camp.
Mr Tandy said that when he was finally liberated he was "nothing but skin and bone".
Looking back on D-Day, Mr Tandy said: "I did as much as I could possibly do. For a young lad, I think I did well, quite frankly."