Third of Scottish adults anxious over body image, report finds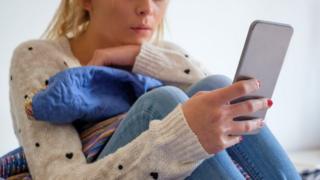 A third of adults have felt anxious over their body image, researchers say.
They also found approximately a quarter of those surveyed have felt "disgust" or "shame" at their body image in the past year.
Mental Health Foundation Scotland, which carried out the research, wants the UK government to reform social media and advertising rules.
Meanwhile Scottish ministers announced they a new group to examine the link between body image and mental health.
MHF Scotland has proposed forcing companies to make sure content does not "exacerbate body image concerns".
The poll - which the charity commissioned from YouGov - asked more than 1,000 Scottish adults about their views on body image.
It found:
Nearly half of 18-24 year olds said social media images caused them to worry
About two fifths reported adverts had a similar effect
Body image issues affected women more than men, with 11% saying they have "deliberately hurt themselves" because of their body image, compared to 4% of men
Over a quarter of people over 55 said their body image had a negative impact on their self-esteem
And more than one in seven adults reported experiencing suicidal thoughts or feelings because of concerns about body image
The charity wants the UK government to take action, by regulating social media and giving more powers to the Advertising Standards Authority.
'Even to this day, it has affected my life'
Vanessa is a former model who was just 15 when she was told she had to be a "certain size".
The mother-of-two from Edinburgh told BBC Radio Scotland's Good Morning Scotland that those discussions had a lasting impact.
"I never actually got to the sizes that they wanted in the whole time I was modelling," she said.
"So it was constant pressure to be thinner. Every day I would think about what I was eating, the exercise I was doing.
"I was thinking about if I went into the agency, they're going to think that I'm too big.
"Even to this day, it has affected my life.
"Looking in the mirror I feel that I'm bigger than I am because for 10 years was basically told that I was too big when I wasn't in reality."
She said that becoming a mother and meditation classes had helped her affect her body image issues but it was something she still had to work on.
"I was just so grateful for my body and the fact that it could make kids," she said.
"And looking at it now I just feel so grateful for everything that my body can do without me having to think about it."
Julie Cameron, of Mental Health Foundation Scotland, said: "One of the most compelling insights from our survey was that commercial, social media and advertising pressures on body image are contributing to mental health problems for millions of people.
"This social harm has been allowed to develop largely unchecked. While there have been some positive initiatives, social media companies have frequently been unwilling to take the necessary steps to protect their users from harmful content.
"If left unregulated, advertising will continue to present unattainable idealised bodies as aspirational. This is harming the mental health of millions and can't be allowed to continue."
The foundation is calling on the UK government to tackle the promotion of unhealthy or idealised body images as a specific part of its strategy in the Online Harms White Paper.
"New codes of practice should include an expectation that social media companies must take practical steps to ensure that the content they promote does not exacerbate body image concerns," Ms Cameron said.
"This could be enforced by the proposed new independent regulator, which is already part of the government proposals."
Social media advice
Meanwhile, the Scottish government said members of youth, third sector and equalities group would be part of its advisory group on healthy body image.
It will identify steps to improve support for young people and advice for relevant professionals.
Mental Health Minister Clare Haughey is due to outline the aims of the group at a visit to GirlGuiding Scotland.
She said: "This will build on our package of measures to improve the mental health of young people, and directly target the impact of social media and body image on mental wellbeing.
"This includes £90,000 of funding to produce advice on the healthy use of social media and screen time, and a review of evidence on the effects of screen use on sleep and the implications of this for mental health."