Scotland's teacher strike averted after improved pay offer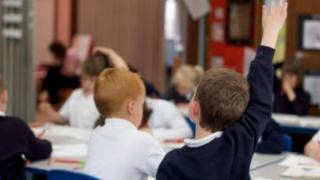 Scotland's largest teachers' union has called off its planned strike ballot after an improved pay offer was made.
The ballot of EIS members was due to get under way on Monday.
However, the new offer from the Scottish government was discussed by the union's national council this morning and the union will urge members to accept it.
The EIS is calling the development a "significant success for Scotland's teachers."
Scotland's Education Secretary John Swinney said he had "looked again" at the pay offer and decided to "increase the funding".
The new offer is for:
A 3% rise effective from last April
A 7% rise this April
A further 3% rise next April
This represents a compound increase of 13.51% over the course of the three years.
The offer means a teacher who has not been promoted could earn more than £41,000 by next year - about £5,000 more than they earn just now.
The EIS received a letter outlining the new offer this morning ahead of a meeting of its national council.
The 11th-hour improvement follows a campaign by the EIS which has continued for more than a year.
Tackling workload
EIS General Secretary Larry Flanagan said, "The EIS launched the Value Education, Value Teachers campaign in January last year, with the aim of securing a fair pay settlement for Scotland's teachers.
"Throughout the campaign, it became increasingly clear that - in addition to pay - teachers also have serious concerns about issues such as the recruitment and retention of teachers, professional development, workload, and the level of support for pupils with Additional Support Needs.
"These issues then became a factor in the ongoing discussions via the SNCT."
Mr Flanagan said the offer also includes;
additional commitments aimed at tackling workload
supporting teacher professional development
and enhancing the teacher leadership programme.
He added: "Taking all of these elements together, it represents a package that the EIS is now recommending to Scotland's teachers.
"This offer represents a significant success for Scotland's teachers, and for Scottish education. It has been secured through strong campaigning under the Value Education, Value Teachers banner, and delivered through the committed collective stand taken by Scotland's teachers.
"By standing together and remaining united, our members have secured a strong deal for Scotland's teachers which will also deliver stability and security for Scottish education."
Education minister Mr Swinney welcomed the union's decision to suspend the ballot.
He said: "The Scottish government and Cosla made a strong offer to teachers which, by a narrow margin, was rejected. Given the importance we place on valuing teachers and improving the attractiveness of the profession, I have looked again at the investment the Scottish government is making."
Mr Swinney believed that the fresh offer would provide the "stability we need to make the reform Scotland's education system needs and deliver the best possible outcomes for our young people".
The NASUWT union intends to ballot its members on strike action later this month over concerns which include pay and workload.
However, because of the size of the EIS, if its members accept the pay offer there would appear to be no possibility of change to this latest offer.
Is this crisis over?
By Jamie McIvor, BBC Scotland education correspondent
Strike action is the ultimate weapon for any trade union.
For professionals like teachers, it can be a particularly difficult step to take.
Some in the profession today remember the bitter, long-running teachers dispute of the 1980s all too well - either as young teachers or as pupils.
To maintain the analogy of a strike as the nuclear option, some in the profession were clearly hopeful that moving to "Defcon 1" - the imminent threat of action - would prove enough to secure an improved pay offer.
And so it has proved.
Two previous pay offers had previously been described as final.
The government and councils clearly pulled out all the stops to avoid a teachers' strike.
The Scottish government wants to be judged on education. It knew all too well that few would judge its record on actual education policy if they saw teachers on a picket line and children getting days off school.
Both sides will be hoping now that the debate can move back on to education policy and practice - efforts to raise attainment and close the gap between how well children from relatively rich and poor backgrounds do. Genuine disagreements still exist - not least over standardised assessments in Primary 1.
Unions will be keen to ensure that efforts to deal with concerns about workload and resourcing are about more than good intent.
But after a 14 month campaign, it looks like peace has broken out.