Charity Social Bite holds mass sleepout to aid homeless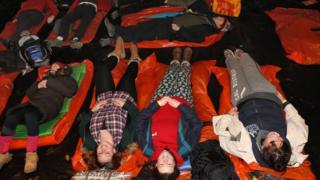 Thousands of people have taken part in a mass sleepout in Glasgow, Edinburgh, Aberdeen and Dundee.
Organisers Social Bite said they hoped to raise £4m to help homeless people across Scotland from the event.
The social enterprise arranged for performances from artists, including Amy Macdonald and KT Tunstall, for the 10,000 participants sleeping out.
Both singers performed at all four locations, travelling between cities by helicopter.
The events were held in Aberdeen's Duthie Park, Dundee's Slessor Gardens, Glasgow's Kelvingrove Park and Edinburgh's Princes Street Gardens.
Lulu headlined the event in Edinburgh, with comedian Fred MacAulay hosting.
In Glasgow, Frightened Rabbit performed for the first time since singer Scott Hutchison took his own life in May - along with special guests.
Eddi Reader took to the stage in Aberdeen and Kyle Falconer headlined the Dundee show.
'Quite patronising'
However, the event attracted some criticism on the grounds that it is "patronising" to homeless people.
Bruce Forbes, director of Angus Housing Association, said: "I'm not critical of the fact that it's raising awareness or the fact that it's raising funds, but I think it is the fact that it now seems to be becoming an annual event which, really in a lot of ways, I think is quite patronising to homeless people.
"They're having to sleep out every night, are not being entertained, they're not sleeping in very high quality sleeping bags - it's really not appropriate to try to replicate."
Social Bite said last year's inaugural event in Edinburgh, which saw 8,000 people take part, raised £4m.
The money was used to help create the "Social Bite" village, in the city's Granton area, where 20 homeless people now live.
It also helped pay for a "Housing First" programme to bring 800 homeless people into mainstream tenancies across Scotland.
Josh Littlejohn, co-founder of Social Bite, said: "There's going to be about 10,000 people across from Scotland from all walks of life giving up their beds and sleeping out on Saturday night.
"We're hopeful those 10,00 people will collectively raise in the region of £4m and that is going to be invested in a variety of programmes.
"We've pretty concrete ambitions to try to help a minimum of 830 people in the next 18 months to two years off the streets, out of homelessness into their own home with support."