New Scottish film studio site announced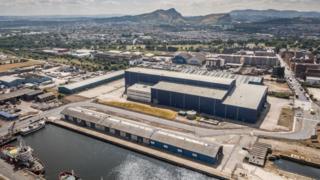 An enormous industrial building in the Port of Leith has been identified as the home of a major film and television studio for Scotland.
Screen Scotland, the publicly-funded body tasked with boosting the industry, is now trying to find the right private developer to take it on.
It has launched a tender process for a developer to lease, refurbish and run the "big blue shed" port building.
Screen Scotland said the studio could be up and running by the end of 2019.
It said public money could be available to assist with the refurbishment but the amounts would be determined by the responses to the tender process.
The building, just three miles from the centre of Edinburgh, was built in 2000 for engineering firm VA Tech but closed four years later.
It lay empty for several years before wave power firm Pelamis took over. The company collapsed in 2014.
Last year, the building was temporarily turned into a film studio as part of the production for Disney/Marvel's blockbuster Avengers: Infinity War.
Screen Scotland now wants the building to be a permanent large-scale film and TV production facility.
It is launching a tender process for a proposal to lease, refurbish and operate a permanent facility, saying that "public sector funding may be provided to the successful applicant".
They hope the 160,000 sq ft space will include up to five sound stages, workshops, production areas and an extensive backlot.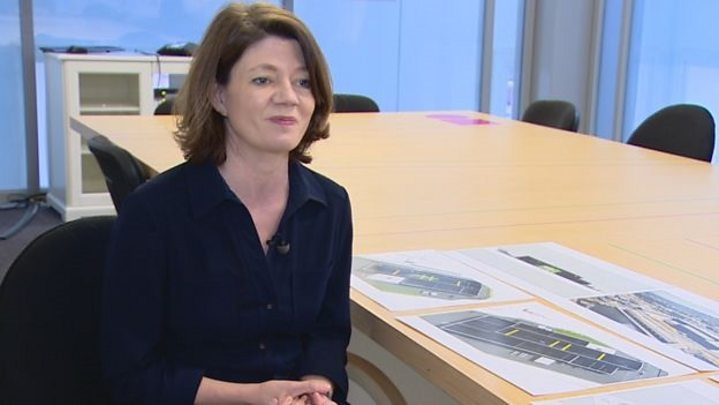 Executive director Isabel Davis said she was "excited" about its potential.
She said: "The site itself is enormous.
"At its highest point it is 100ft tall."
There have been concerns that the lack of suitable studio space meant Scotland was losing out to other parts of the UK in the race to attract major film and TV productions.
Although scenes for several major films and TV dramas have been shot in Scotland in recent years, the productions are often based elsewhere - with crews only travelling to Scotland for a few weeks for filming.
The major exception has been the popular series Outlander, which is filmed at the Wardpark Studios in Cumbernauld.
It has also been looking to expand to help it attract "top end productions".
Ms Davis, of Screen Scotland, said there was currently a "global production boom" driven by the rise of streaming sites such as Netflix and Amazon.
"We know the appetite is there for more space and we are feeling that both from the local industry and the global industry," she said.
Screen Scotland is inviting the private sector to come forward with proposals for the Port of Leith building.
"We will be looking at what they are offering in terms of the private sector investment," she said.
"We will also be looking at what is being asked of us as the public sector and we will be appointing somebody to run the facility in April of 2019.
"We hope that swiftly after that we will be able to have the refurbishment take place so that the studio can be operational towards the end of that year."
Ms Davis said it was "an extremely significant step forward in Scotland's desire to have a facility of this scale".
"We are very confident there is market appetite for something like this," she said.
Last month plans for another Scottish film studio were halted by a court's decision that a tenant farmer could not be removed from his land.
A £250m studio, which was to feature six huge sound stages, had been planned for about 100 acres of greenbelt in the Pentland hills outside Edinburgh.
The studio project was described by the Scottish government in 2017 as being "of national importance".
But a Scottish Land Court ruled that land from two smallholdings could not be used for the development.