ScotRail and RMT settle pay dispute after train disruption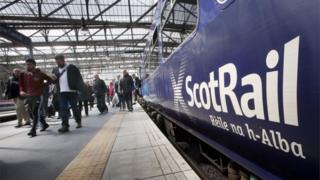 ScotRail has settled a pay dispute with the RMT union just days after trains were cancelled due to staff shortages.
Passengers have been experiencing disruption since the weekend when a number of services were affected.
The union said an ongoing overtime ban had caused the cancellations but the company put it down to staff training ahead of the winter timetable.
The RMT had been calling for better rest day payments for train staff in line with train drivers.
The improved pay offer was agreed following talks on Tuesday and will affect 3,500 train conductors and other staff.
David Simpson, ScotRail operations director, said: "I am pleased that an agreement has been reached with RMT to resolve the union's rest day working dispute with us.
"I know this has been a difficult time for everyone involved and I hope that we can now focus on delivering for our customers, as we build the best railway Scotland has ever had."
Mick Hogg, the RMT union's regional organiser in Scotland, also welcomed the outcome.
'Common sense reached'
"I am absolutely delighted that common sense has eventually been reached.
"This has been a dispute created by ScotRail, not the trade union.
"We argued from the outset that it was wrong and that ScotRail were giving drivers a colossal amount of money for working their rest days.
"We were seeking, as a trade union, equalisation within the workplace.
"Unfortunately it's taken action by RMT members for ScotRail to sit up and take sense."
On Sunday, some services were cancelled and replaced with buses. Others operated a reduced service, making a limited number of stops.
Some passengers took to social media to complain about overcrowded trains as a result of the cancelled and altered services.
The pay dispute goes back to April this year, but the ban on overtime only came into effect in September.
Transport secretary Michael Matheson criticised the operator on Tuesday as MSPs raised concerns about cancellations and overcrowding during the RMT action.