Drink spiking: 'Stop blaming the victims'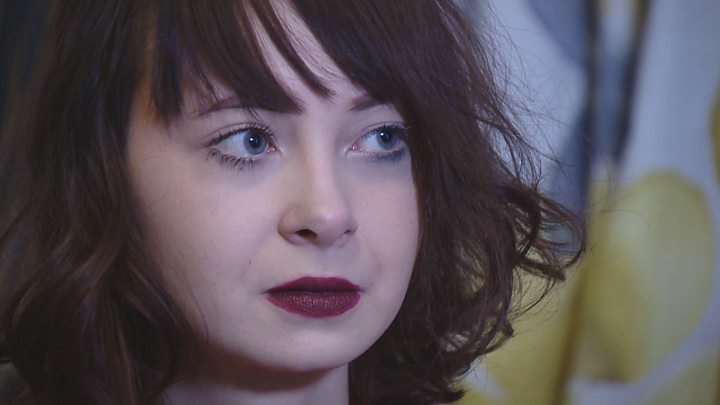 A young woman who says she had her drink spiked in a Glasgow nightclub wants people to stop blaming the victims and tackle the problem.
Eighteen-year-old Corey says the experience was "terrifying" and has made her scared of being in clubs.
She told BBC Scotland it was difficult to get people to believe she had only had one drink.
"I couldn't feel my legs, I couldn't feel my arms, I couldn't speak properly," she says.
"One vodka and coke is not enough for me to be in the state that I was in."
Corey says: "Everyone I told I would get the same responses 'oh, it happens, you should have been more careful, you should have watched your drink'."
"I was getting blamed."
"There is a lot of victim-shaming where people are told they drank too much or are just being dramatic," says campaigner Cara Teven, who founded Girls Against Spiking after it happened to a close friend.
Cara has won the backing of Police Scotland for her campaign to get pubs and clubs to offer drinks with lids to act as a deterrent to anyone thinking of spiking drinks with drugs such as GHB and Rohypnol.
The official police figures for the number of recorded instances of people's drinks being spiked is low, with just 21 cases recorded in the six months from April to the end of October.
However, campaigners and experts say the figure is a "drop in the ocean" and the real scale of the problem is much greater.
They say victims of drink spiking do not often realise what has happened to them until much later.
What substances are used to spike drinks?
Drugs used in drink-spiking are often referred to as date rape drugs, although they're not always used for sexual assault.
Some examples of drugs that have reportedly been used for drink spiking include:
gamma-hydroxybutyrate (GHB)
gamma-butyrolactone (GBL)
tranquillisers, most often benzodiazepines, including Valium (diazepam) and Rohypnol
ketamine
Date rape drugs are particularly dangerous when mixed with alcohol because they combine to have a very powerful effect.
In extreme cases, it can lead to a coma or even death.
Date rape drugs may come in powder, tablet or liquid form, and don't always have a noticeable taste or smell.
'I only had one drink'
Corey told BBC Scotland she went out to a club to meet friends but while she was getting her first drink they decided to leave.
The 18-year-old was sitting alone checking her phone when she believes her drink was spiked.
She says she quickly began to feel sick and dizzy and collapsed under the table.
"It was that feeling where you feel you have drunk too much but so much more amplified," Corey says.
"The room was constantly spinning. I kept trying to be sick but nothing was coming up."
Corey says she was helped outside by some girls who were concerned for her.
According to Corey, the security staff at the club assumed she was drunk and just wanted her away from their premises.
Eventually, her parents were alerted and she was sent home in a taxi.
"The next morning I could not leave my bed, I was sweating and shaking," she says.
"I didn't know what was going on."
'I didn't think it really happened'
Corey says that before the incident she did not know anything about spiking.
"I thought it was something that happened in movies," she says.
She says she is "furious" that someone would do this and that it is difficult to convince people about what had happened.
"The hard part is there is there is no proof I was spiked, it's just my words," she says.
Like many others Corey did not go to hospital or to the police.
She says: "I kept getting told it was my fault. I didn't want the police to say that it was me.
"There are so many young girls feeling the same way."
Corey says: "Young girls should not have to be cautious or wary on nights out.
"You go out to have fun, to relax, to unwind, not to look out for predators or people who will drug your drink."
Corey says clubs need to start taking action to prevent spiking such as searching people or putting lids on drinks.
Girls against spiking
Cara Teven, from Girls Against Spiking, says the issue is one that seems to be becoming more widespread.
In September, it was reported that a 20-year-old fashion student suffered horrific injuries after jumping naked from the first-floor window of her flat after a night out.
She believed her drink was spiked as she sat with friends in a city centre student bar.
Cara, a 21-year-old law student from Ayr, says the "final straw" for her came when drink-spiking happened to her friend.
"I thought if it could happen so close to home there must be other people out there who could be affected too, " she says.
So far her campaign to get bars to offer lids for drinks has concentrated on universities, with the University of Strathclyde's student union being the first to get onboard.
Cara says: "Students are most vulnerable to spiking, having just gone to university and not having much experience of going out.
"I'd like to start in universities and then move into private venues like nightclubs," she says.
Her aim is to change the attitude of nightclub premises.
"Clubs don't want to get involved because they maybe see that as an admission of guilt," she says.
Cara's aim is to make them see it as a "socially conscious exercise".
She says: "Until it happens to someone close to them they don't realise how easily it can happen.
"If maybe the owners of bars realised it could happen to their wife or their daughter or even their son, they would see how close to home it could be."
The NHS says there is no specific criteria to test for drugs such as rohypnol and GHB and health boards do not hold data on how many people go to hospital complaining of being drugged.
Helena Conibear, of the Alcohol Education Trust, says the number of cases is "vastly under reported".
She says many young people recounted experiencing symptoms such as blankness of memory or passing out when they hadn't drunk very little or perhaps nothing at all.
She called on them to report it quickly so that something could be done about it.
Toxicologist Jim Campbell says he believes spiking is "a lot more common" than figures suggest.
He says some of it could be done for "a laugh" while others have much more serious motives such as sexual assault.
Mr Campbell, who works for drug diagnostic firm Sure Screen, says: "The biggest problem is someone comes to their senses and can't remember much and can't imagine it happened to them.
"Within a day it's too late to do anything. Police can't do anything without evidence."