'People are worried sick about universal credit'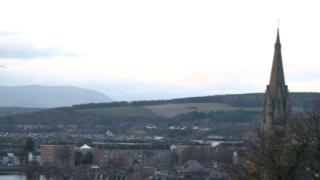 The Highlands Council area has had the longest association with universal credit in Scotland.
In late 2013, the system was started as a pilot scheme.
Since then, 9,000 people in the Highlands have moved on to the benefit, with another 13,000 to be transferred before 2023.
How has universal credit been received in Inverness?
Douglas MacKenzie lives in the Merkinch neighbourhood in Inverness - one of the most deprived areas in the whole of Scotland.
Universal credit claimants in this small area account for around a fifth of recipients across the whole of the Highlands.
The 48-year-old - who battles with alcohol addiction - was claiming Employment and Support Allowance (ESA) until a blood clot in his leg resulted in him having to use a wheelchair.
Douglas's move to a disabled flat counted as a change in circumstances - and he was transferred on to universal credit.
However, there was a delay in his payments.
He said: "It's alright when everything has kicked off and you're getting your payments. Everything is fine then.
"The problems is from that point when you claim first, the amount of time you have to wait until you get a proper payment.
"I know you get it all backdated, but backdating is nothing when you are left with nothing."
Douglas added: "I was going through the food banks with my support worker. That was all I could do.
"I couldn't walk down to Theresa May's house and ask her for a sub."
Are rent arrears rising due to universal credit?
One of the changes with universal credit is that while housing benefit was paid directly to registered social landlords, now it goes to the tenant.
Scottish recipients can choose to pay landlords directly but campaigners say those with chaotic lifestyles are often not aware of the change.
Douglas is now paying off his rent arrears to the council.
He said: "I thought my rent was getting paid but it wasn't getting paid at all.
"I opened a letter from the Highland Council telling me I was £1,700 in rent arrears.
"I know a lot of people who are worried sick about this universal credit. I think it is madness."
The Department of Work and Pensions (DWP) said it apologised to Douglas for the delay in his payment.
His case has helped contribute to the Highland Council's costs burden in relation to the benefit.
In October, council leader Margaret Davidson said it was £2.5m out of pocket due to rising rent arrears and the introduction of universal credit in June 2016.
She called on the UK government to reimburse local authorities.
SNP MP Drew Hendry is the former council leader and obtained data on the benefit's impact via Freedom of Information request.
He said: "Everybody at the beginning and all the way through this has said the theory of bringing in a single payment is a fine idea. There is nothing wrong with that.
"What we saw immediately were problems with people falling into rent arrears because of the delayed payment process and people sinking into debt because of the wait in getting that money through.
"With social house builders, obviously they are counting on rent being paid and coming in on time. Because of the shambles that has been universal credit in terms of housing payments, they are themselves running up big arrears bills and that is impacting on their ability to invest in new housing."
Housing associations claim to be feeling the strain too - with one stating that the steep rise in arrears hampered its ability to commit to new developments.
Albyn Housing Association said that, on average, universal credit arrears tenants each owed almost £300 more than those on the old system.
Chief executive Calum Macaulay said: "At one point, the average rent arrears held by tenants claiming the housing element of universal credit was £1,000.
"However, by lobbying for change to the terms of payment, and directly supporting tenants through the transition from housing benefit to universal credit, this has reduced to just around £360."
Mr Macaulay said: "If the terms of payment had not changed to a reduced period, and the society had not worked proactively to support tenants as they transitioned to universal credit, the level of rent arrears we had the potential to accrue could easily have impacted on our ability to borrow, and therefore, build new homes and make improvements to existing stock.
"For example, around 750 tenants currently claim universal credit, so if each owed over £1,000 in rent arrears, we would have a £750,000 to £1m hole in our income."
Are there issues for patients in hospital?
At Raigmore Hospital, Elaine Donnelly works for a partnership between Macmillan Cancer Support and Citizens Advice Scotland.
She claims her small office in the hospital grounds has seen a steady flow of cancer patients from the hospital, with more than 400 inquiries about universal credit claims.
The main issue is patients' access to the online application and journal system that is central to managing the benefit.
She said: "For instance, if someone is in hospital, it is very difficult for them to access a laptop or get an internet connection.
"People are waiting a very long period of time for payment.
"We have real difficulties getting people who are terminally ill their DS15 reports, which states that they have six months or less to live.
"I think we are just weary. It's been two and a half years of this."
Helen's story - 'It makes me feel really unhappy'
One of her attendees is 54-year-old Helen Knowles, who lives in Fortrose across the Moray Firth.
A self-employed home help, she had been claiming universal credit until March this year after a spell of bronchitis.
She tells the BBC she felt she had shaken herself loose from the benefits system.
However, Helen took ill with a neurological condition while volunteering for a charity in Guatemala and ended up in the stroke unit at Raigmore Hospital.
Because she can't access the internet from her ward, she travelled to the Citizens Advice office to reapply on two occasions.
She now faces a telephone interview with a job coach on 5 December before a face-to-face meeting at a later date.
Helen said: "They said they would maybe come to the house or I have to go somewhere. I don't know when I will get paid.
"It makes me feel really unhappy, really upset. I still have my flat and I still have to pay the bills.
"I'm not that hopeful [about the process]. I am dreading it, especially having to go see someone just to prove that I can't do this and I can't do that.
"I'm really not looking forward to it."
What does the government say?
The DWP said the Highlands' rising rent arrears - as well as rises in attendances claimed by the Highland Foodbank - are "complicated" and cannot solely be blamed on universal credit.
A spokeswoman said: "Our research shows that many people join universal credit with pre-existing arrears, but the proportion of people with arrears falls by a third after four months in UC."
She added: "We have listened to concerns about universal credit delivery and funding, and in response announced a £4.5bn cash boost.
"This includes increasing the amount people can earn on universal credit by £1,000 before their payment begins to reduce, and making sure people do not lose out as they move onto the new benefit."