No breakthrough in Scotland's teachers pay talks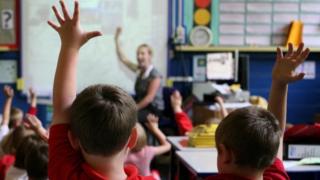 Talks over Scotland's teachers pay dispute have ended without a breakthrough.
Teachers want a 10% pay rise but the headline offer from their employers is said to be worth 3%.
No new deal was put on the table on Monday however unions hope an improved offer may be made after the Scottish budget is revealed.
The leader of the EIS, Larry Flanagan, said he was disappointed an improved offer was not made.
Teachers pay is negotiated by a committee which brings together unions, councils and the Scottish government.
BBC Scotland understands an improved pay offer will be discussed by council leaders after the Scottish budget.
One possibility is that employers may offer a pay deal covering several years, however the EIS still wants a 10% rise this year.
If a satisfactory offer is not made by early January, the union is likely to hold a formal ballot on strike action.
If the union were to back industrial action it could start in late January or February.
What happens if there is a strike?
The EIS has still not taken any decision on just what tactics to pursue if industrial action happens.
Action could begin with a work to rule and a national one day strike.
After this, the union may consider a programme of "rolling" strikes targeting different parts of the country or sectors of the workforce on different dates.
The aim would be to cause ongoing disruption without expecting individual teachers or schools to shoulder an undue burden.
Over the course of several weeks, all schools and union members would face similar levels of disruption.
'Not politically-motivated'
Mr Flanagan has dismissed reports strikes could actively target schools in the constituencies of Scottish government ministers, echoing the tactics used during the bitter teachers' dispute of the 1980s.
During this period, several schools in Conservative constituencies were singled out for strike action - often targeting schools in suburbs and rural areas.
Senior figures in the union believe such tactics would be inappropriate and counterproductive now.
They are adamant the dispute is simply about teachers pay and not a politically-motivated strike against the government itself.
They are also aware that a significant proportion of their members and office bearers will be SNP members or supporters.
Another reason they believe this tactic would be inappropriate now is because of the schools and areas it would target.
Practical problems
During the 1980s dispute, the union felt it was fighting a party which was unsympathetic to trade unions and unpopular in much of the rest of Scotland.
However senior figures believe there would be no such support now for a strike which was seen as singling out SNP ministers.
They are also well aware that many SNP ministers represent constituencies with a significant number of disadvantaged areas.
Actively targeting schools in these areas could have been seen as targeting those children whose life prospects could be harmed if their education was badly disrupted.
It could also have caused practical problems for those who are entitled to free school meals.