Anger as 'Scrooge' ScotRail ends Kids Go Free scheme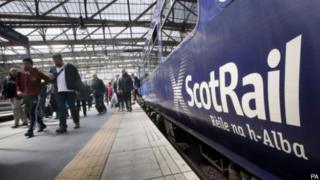 ScotRail has been accused of "Scrooge-like behaviour" after it ended a free travel scheme for children.
The rail provider said from January the Kids Go Free option, allowing an adult to take up to two children on a return journey for free, would end.
Instead each child aged between five and 15 will be charged £1.
Transport union TSSA has criticised the move saying an adult travelling once a week with two children would face an annual bill of £104.
ScotRail said that children under the age of five would still travel for free.
The Kids for a Quid scheme would begin on 2 January.
ScotRail insisted the move opens up cheap travel opportunities for more customers, as the scheme includes free child entry to Scottish attractions such as Edinburgh Zoo and Deep Sea World.
A spokesman said: "We are committed to providing our customers with the opportunity to travel across our services and the Kids for a Quid offer is available on a wider range of adult tickets.
"This provides families with the opportunity to travel throughout the country, and take advantage of free entry to the many attractions that we have been able to secure."
'So disappointed'
The leader of TSSA, Manuel Cortes, said the decision to "slap fares on kids earns them my Scrooge-of-the-year award".
He added: "One of the last decent things you could say about ScotRail was their policy to let kids go free. What a great way to treat our children - and their hard-pressed parents."
The news prompted commuters to react with dismay on social media.
Blake Scott said: "This is stupid. Kids go free encourages family to travel by train as it's cheaper than taking the car."
Laura Bogucki added: "ScotRail so disappointed to hear of your plans to abolish Kids Go Free. That scheme is so important to so many."
Meanwhile, Scottish Labour's transport spokesperson Colin Smyth MSP branded the new scheme a "rip-off".
Mr Smyth said: "With Christmas less than a few weeks away it is sad to see bosses at ScotRail acting like Scrooge by taking free rail travel away from children across Scotland.
"The Kids Go Free scheme is a fantastic initiative which encourages families to use public transport and not be out of pocket for doing so.
"This rip-off fare rise will see passengers handing out even more money to a private company which is failing them time and time again.
"I hope ScotRail see sense and give our children the gift of free rail travel for another year this Christmas."
Scottish Conservative transport spokesman Jamie Greene said: "This won't be a huge cost saving for ScotRail and, given the amount of money they have in various fine-related funds, it's hard to see why they would end this."
A Scottish government spokeswoman said: "We recognise fares increases are unwelcome, particularly when performance falls short of passengers and ministerial expectations.
"The impact on passengers has been minimised by capping increases for regulated ScotRail peak fares at the level of the retail price index (RPI), and regulated off-peak fares 1 per cent lower than inflation. This means, in Scotland, average fares increases are lower than England and Wales.
"We await the RDG's proposals for industry change, resulting from its recent consultation on rail fares, which we will consider together with the interests of Scottish rail passengers and taxpayers."