Blackford says SNP will support bid to put Brexit on hold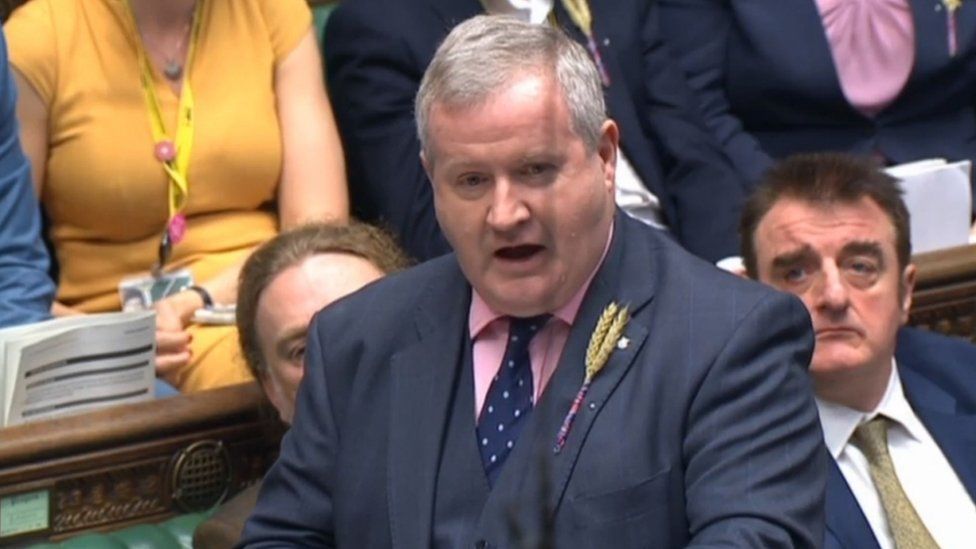 SNP MPs will support a bid to suspend the Brexit process, the party's Westminster leader has said.
Ian Blackford said he expects an amendment suspending Article 50 to be brought forward in the Commons before 9 December.
MPs are due to vote on Theresa May's Brexit proposals on 11 December.
The Scottish Conservatives accused the SNP of wanting to create "constitutional turmoil".
Mr Blackford said he supported the Labour MP's amendment, and expected SNP MPs to sign up when Westminster business resumes on Monday.
Mr Blackford said he hoped the Commons could now take the lead on how Brexit pans out.
Asked about an amendment to suspend Article 50 - the legal trigger that activated the withdrawal process - Mr Blackford said he expected movement before 9 December.
"There are still a number of days left for Parliament to put down an amendment to that effect, and I believe that that will be the case.
"We have expressed for a considerable period of time that we wanted Article 50 to be suspended, and we know that can be done for a number of months."
He said there were MPs across the chamber who would support a suspension.
"If you are going to vote against Theresa May's deal, if you are going to vote to rule out a no deal scenario then it is common sense that you need to make sure that there is time for a new proposal to be put forward in Parliament and perhaps even to the people of Scotland and United Kingdom," he told the programme.
"That means that we have to postpone article 50.
"The European Union recognises that there is a possibility of that coming, and the European Union - at least in the first case - can agree to that until the end of June."
He refused to be drawn on reports that the SNP has been in discussions with the Labour Party about supporting a Labour minority government.
He said: "At the moment, our entire focus is on the Brexit process."
Meanwhile, David Lidington, the Cabinet Officer Minister, sought to reassure Scotland's Conservative MPs who're considering voting against Theresa May's Brexit deal over fishing.
Several of the 13 Scots Tories have warned they could not support any agreement that prevented the UK from independently negotiating access and quota shares.
Speaking to Sunday Politics Scotland, Mr Lidington said a deal with the EU over access to UK fishing waters in the future would not be linked to a wider free trade deal.
But Mr Blackford said that was a "fanciful" idea.
"The EU 27 made it absolutely crystal clear that future negotiations on fishing would start from the position of existing quota shares.
"The idea that Europe is not going to have access to our waters and is not going to drive hard bargain on this is simply missing the point spectacularly."
Scottish Conservative interim leader Jackson Carlaw accused the SNP of playing Brexit for its own aims,
"Ian Blackford has made it clear once again that the SNP's position on Brexit comes with conditions attached - its overarching demand for a second referendum on independence," he said
The SNP, Lib Dems and Labour were "lining up to take us back to another EU referendum," he added.
"Nicola Sturgeon and Ian Blackford want to create yet more constitutional turmoil and are now using Labour and the Lib Dems to help them," he said.
"It is time to respect the votes we have had and move on."