Clutha survivor: 'Going back to pub helped my recovery'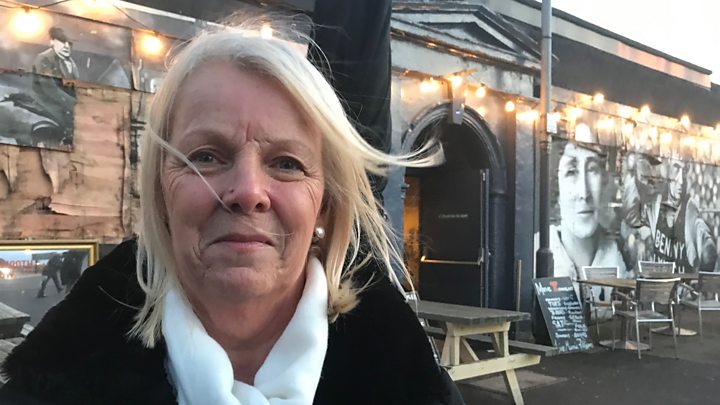 It is five years since a helicopter came crashing down onto the Clutha pub in Glasgow killing 10 people. Here, one survivor recalls the night and the last conversation she had with her partner who died.
---
Mary Kavanagh has suffered many sleepless nights since the Clutha helicopter crash.
For the last five years the grandmother has been wracked with survivor's guilt, after losing partner Robert Jenkins in the tragedy.
"Some nights I just couldn't shut my eyes because I didn't know what would go through my head," said Mary.
"When I pictured the pub I saw Munch's Scream faces coming towards me, bodiless."
Marking the fifth anniversary of the crash, Mary told how Robert promised to buy a drink at the bar - the last words she heard from him on 29 November 2013.
After the police helicopter plunged through the bar's roof, Mary escaped from the venue by grabbing hold of a stranger's coat and following them to the door.
It was only when she stood outside on Bridgegate watching people run from the bar bloodied and injured that she realised Robert had not come out.
She said: "I was in a state of shock. Seeing people coming out with injuries, I realised something terrible had happened.
"I could see the tail of the helicopter sticking out of the pub and within 10 minutes I realised Robert was not coming out. I waited and waited but he never appeared."
'We met through music'
Robert, 61, was among seven customers killed, along with two police constables and the pilot on board the Eurocopter EC135.
In immediate aftermath of the crash Mary was put on strong tranquillisers to cope with his death.
Thereafter the charity worker tried to resume a normal way of life, but she was plagued by disturbing visions, felt "detached from reality" and eventually gave up her job.
Eye Movement Desensitisation and Reprocessing (EDMR) therapy helped her sleep, but Mary feared she could never return to the venue where she and Robert's romance first blossomed.
"He and I met through music," Mary said. "I had never been in the Clutha and one night he said 'would you like to go' and I said 'OK'.
"That was my first experience of the Clutha and I absolutely loved it - when you walked in you very much got a community spirit. Everyone said hello and chatted.
"We went at least twice a week and we ended up going to a couple's wedding who we'd met in the Clutha.
"I was thinking it would be a real shame if there was no music played in that corner of Glasgow ever again. I just didn't know if I'd be able to go."
Going back was 'therapy'
Clutha owner Alan Crossan reopened the pub in 2015 having built a new bar in the old smoking area, away from the original.
He invited Mary back for the official opening ceremony along with other survivors, but she was unsure if she could manage the feat.
However the distinction between the "old" and "new" Clutha helped Mary step back inside the venue - and reconnected with her lost love.
She said: "People are surprised I can go in there and have a meal and a drink - that's what I feel I had to do.
"I feel close to Robert when I'm sitting in there."
A Clutha regular once more, Mary, from Newton Mearns, has also made strides in her recovery by running The Clutha Trust shop.
The charity venture on Stockwell Street raises funds to help disadvantaged young people get involved in music and the arts.
The walls are lined with guitars donated by famous musicians from Paul Weller and Van Morrison to Franz Ferdinand.
Telling her story to fellow survivors and those affected by the crash is another way for Mary to move forward.
She added: "It's an ongoing healing process. To tell the truth I don't think it ever truly healed, it's such a traumatic experience.
"Being involved in The Clutha Trust, I feel something really good is coming out of something so tragic.
"I got involved a couple of years ago and it has really has helped my recovery. I feel very much part of a community - Clutha survivors are a very tight knit group.
"If I can help in any way, I'll do that."