Call for huge Inchgreen dry dock to be 'saved for the nation'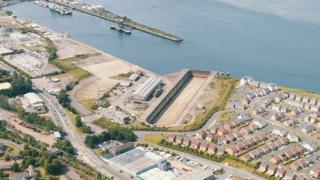 Inverclyde Council is set to increase the pressure on the owners of a huge dry dock in Greenock.
Councillors want the owners to either bring the Inchgreen Dry Dock back into use or make it available as an asset for the nation.
Peel Ports insist they want to secure an industrial future for the dock and work was being tendered for.
The owners said they were bidding to win refit work on the Royal Navy's new QE2-class aircraft carriers.
If successful, the tender could create hundreds of shipyard jobs locally but campaigners and councillors are running out of patience.
The Inchgreen dock, one of the largest in the UK, is where the QE2 was fitted out in the 1960s after its launch from the John Brown shipyard.
But it has been largely unused for 16 years and its cranes were demolished last year.
The scale of Inchgreen Dry Dock, which is 305m long by 45m wide, has to be seen to be believed but it currently lies unused.
The facility is owned by Peel Ports and managed by Birkenhead-based Cammell Laird who insist they have plans to resurrect it as a working yard.
The company said they were towards the last few months of a tendering process to use Inchgreen to repair and refit the Royal Navy's 280m-long Queen Elizabeth Class aircraft carriers.
Failing that they insist they still plan to use the facility as an ongoing shipyard for supporting the navy's Type 31 Fast Frigate programme.
Fighting for a shipyard
Local campaigner and former shipyard worker Robert Buirds said even if it won the Royal Navy contract the repair and maintenance of the new aircraft carriers would be years away.
"That's not going to give continuity of employment," he said.
"What is going to give continuity of employment is a being a shipyard and that's what we are fighting for."
Mr Buirds said Peel Ports had handed over the dry dock facility to Cammel Laird, which already has four dry docks in Birkenhead.
"It's also got slipways to build the ships there," he said.
"Basically, they are not wanting the competition. That's why this place has been starved."
Mr Buirds said: "Shipbuilding is booming in Europe and the far east. Why is it not booming on the Clyde?"
It would appear that Inverclyde Council are also running out of patience over the dry dock.
The council is due pass committee minutes containing a motion calling on the Scottish government to "secure the asset for the nation".
Inverclyde's deputy leader Councillor Jim Clocherty said the dock area was of importance to the whole of Scotland.
"We should not leave it up to one firm to decide what can and can't go into it," the Labour councillor said.
"What we are actually looking for is the Scottish government to say 'it is of such importance we will take it into public ownership'."
He admitted that he was calling for a form of nationalisation, citing the example of Prestwick Airport, which was bought for £1 by the Scottish government five years ago amid fears it could close.
"We are seeing an asset for Scotland really going to waste," Mr Clocherty said of the dry dock.
"People are a wee bit impatient and saying 'we want to see action quicker rather than later'."
The Peel group acquired numerous industrial sites and tracts of waterfront land on the Clyde though its acquisition of Clydeport in 2003.
Responding to the council motion, Peel Ports insisted they shared Inverclyde's ambitions of restoring Inchgreen as a major, viable centre for ship repair, creating jobs and economic prosperity.
They said they had kept the council updated on the current MoD carrier repair procurement process and, once complete, they would have a far greater degree of clarity how to bring Inchgreen back into productive use.