Celtic cross commemorates Scottish World War One poets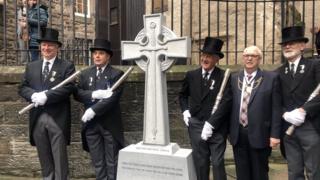 A memorial to Scottish World War One poets has been unveiled in Edinburgh's Makars' Court.
The granite Celtic cross is designed to ensure that the "poetic words and warnings of war will echo into another century".
The cross recognises the bravery and sacrifice of the poets and the work they left behind through their words.
The country has been remembering the fallen this month, 100 years on from the end of WW1.
Scotland's War Poets Partnership project chairman Neil McLennan said poetry had powerfully captured the horrendous "war to end all wars".
He said: "As we approach the end of First World War Commemorations, poetic words and warnings of war will echo into another century."
Mr McLennan stressed that it was important the conflicts of the past were not forgotten.
"We must keep educating on historic conflicts and on remembrance," he added.
Poetic vote
The Scottish Poetry Library launched a campaign earlier this year to choose a quote from a series of poems to feature on the memorial.
Poets included:
David Mackie (1891-1956)
Murchadh Moireach/Murdo Murray (1890-1964)
Neil Munro (1864-1930)
JB Salmond (1891-1956)
JE Stewart (1889-1918)
Mary Symon (1863-1938)
The campaign gained nearly 1,000 votes online and the most popular quote came from Neil Munro's Lament for the Lads.
It has been etched on the cross and reads: "Sweet be their sleep now wherever they're lying far though they be from the hills of their home."
Munro left Argyll to find work in Glasgow, but the Highlands featured in most of his literary work.
He visited the front line several times as a war correspondent in 1914 and 1917.
Later his son Hugh was killed in the Battle of Loos.
His efforts will be remembered through the memorial of words.