Scottish firms urged to protect staff after Beast from the East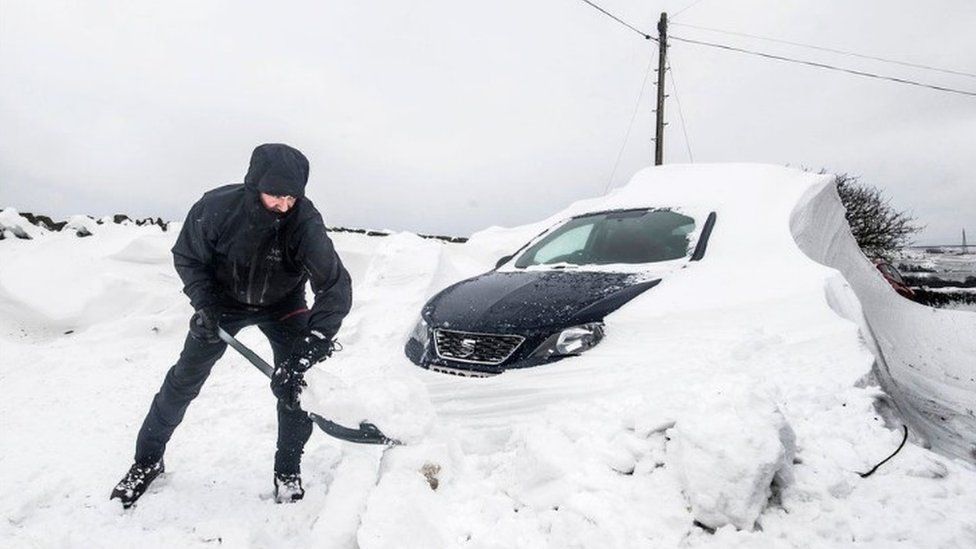 Staff should not be pressured to come into work during snow storms, the Scottish government has announced.
Ministers have also recommend that employees have flexibility written into their contracts to cover extreme weather conditions.
The push is part of the government's new Fair Work Charter for Severe Weather which was published on Friday.
Finance Secretary Derek Mackay said: "We have developed this charter because fair work is good for workers."
The charter has been developed after trade unions complained about the treatment of some workers during the Beast from the East storm earlier this year.
It acts as a guide for employers in lieu of legislation.
Developed by the Scottish government and the Scottish Trades Union Congress (STUC), the charter sets out fair work practices and recommends that all employers have a severe weather policy.
The document sets out a number of guidelines for employers to prioritise the safety of workers including:
avoid forcing workers to fulfil contractual obligations during severe weather
deliver risk assessments
resist giving staff incentives to work during periods where Met Office warnings have been issued.
The charter also suggests than employers should write flexibility into workers' contracts to reflect the severe weather policy.
The Beast from the East brought severe snowfall across Scotland in February in March this year with transport networks brought to a standstill and blanket school closures.
However workers also paid the price, with many experiencing trouble getting to work, being sent home early and pay cuts as a result.
One worker Mary, who was due to work a nine and a half-hour shift in a fast food shop, told the BBC's John Beattie earlier this year: "I worked about four and a half hours.
"It'll only be the four and a half I get paid. Most of the bills we have to pay come out of my bank account anyway. Any money I lose out on is crucial."
Mr Mackay told the BBC's Good Morning Scotland radio programme on Friday: "I think we'll get the kind of outcomes we're looking for without being overly prescriptive or having to use legislation - which let's face it, won't be able to reflect every eventuality and circumstance.
"It's absolutely worth doing. A lot of companies contacted the Scottish government during the Beast From The East looking for advice and we're trying to put that out in coordinated and helpful way."
Mr Mackay added: "If companies choose to exploit their workers and not respond in a reasonable, fair and balanced way then I think there is a case for that to be exposed.
"That's why we are trying to be proactive as we approach the winter spell. It's important that we create right behaviour."
The STUC surveyed workers across several industries to assess their concerns during storms.
Grahame Smith, General Secretary of the STUC, said: "Our extreme weather survey revealed major concerns in many sectors.
"We were heartened by the efforts of workers to keep essential services operating, but also how they organised together within their unions to expose bad practice, including forcing workers to travel in dangerous conditions and denying pay to those who were unable to get into work.
"Our survey clearly showed that trade union membership and collective bargaining is an important factor in determining how satisfied workers are with employer behaviour in difficult conditions."