Q&A: Can 850 Michelin jobs in Dundee be saved?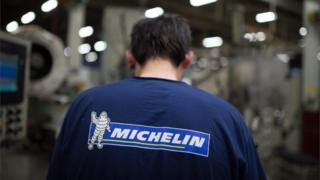 As politicians, unions and industry figures unite in a bid to save the Michelin tyre factory in Dundee, what is the firm's current position in the UK, and what might happen next?
What does Michelin do?
The company was established by brothers Edouard and Andre Michelin in Clermont-Ferrand, France, in 1889.
Today it has more than 100,000 employees in dozens of plants worldwide, and has cornered a significant chunk of the global market in tyres for cars and trucks, producing more than 150 million every year.
Its UK operations are run from Stoke-on-Trent, and over the years has included manufacturing plants in Ballymena, Burnley and Dundee.
The Dundee factory, which has an 850-strong workforce, was opened in 1971, and at its peak churned out about seven million car tyres a year for export across the globe.
The importance of the plant to Dundee is hard to overstate - it is the largest industrial employer in the city, with about 850 workers, and is thought to contribute about £40m to the local economy each year. Its two wind turbines also make it something of a local landmark.
What's going on?
Michelin confirmed on 5 November that the Dundee plant was to close, saying it had faced "serious difficulties" due to changes in the market for car tyres and competition from "low-cost, entry-level products from Asia".
The firm said despite expensive efforts made to modernise the plant, "the accelerated market transformation has made the plant unsuitable and its conversion is not financially viable".
Michelin Dundee manager John Reid said the plant had been "operating in a very difficult market context for more than a year", saying production volume had been cut three times in the past year.
He said: "This year we actually produced the lowest volume we've ever produced in the factory, so it was clear that something fairly fundamental was happening."
The changing world of tyres
Is designer winning over bog standard?
19
Available general tyre sizes in 1997
120
Available general tyre sizes in 2018
1,030 Niche tyre sizes avilable in 2018

105,000 Michelin's total workforce

845 Michelin Dundee's workforce
Reuters
BBC Scotland's business and economy editor Douglas Fraser said the market for the tyres the Dundee factory specialises in has "fallen away sharply".
He said that the auto industry is "in the early stages of very significant change", and that Michelin's Scottish workforce "has been very unfortunate to find that it is making the items that are going out of automotive fashion".
Read more from Douglas Fraser here
What is being done about it?
The immediate reaction was one of horror, with union Unite said the factory closing down would be a "hammer blow" to Dundee.
The Scottish government swiftly moved to set up an "action group" in a bid to save the plant.
The team includes Scottish Finance Secretary Derek Mackay, Scottish Secretary David Mundell, Dundee City Council leader John Alexander, Scottish Enterprise chief Steve Dunlop, and a range of other union and industry figures.
Mr Mackay said the group would "work tirelessly in the coming weeks to explore options" to either keep the plant open, or find a new use for it.
Are Michelin definitely leaving?
Although Michelin have been quite firm that they are leaving Dundee, the Scottish government has refused to give up hope, with First Minister Nicola Sturgeon saying that "we do not want to assume at this stage that that is an inevitable outcome".
Beyond that, she said the government's "absolutely priority is for the site to continue with commercial production".
Mr Mackay met Michelin executives in Paris on Sunday, and insisted that "it's possible" that the French firm still has a future in Dundee.
He said: "Because they're phasing the closure to 2020, I think it gives the company some time. They have a presence in Scotland and I want that presence to continue beyond that.
"I have not given up hope on that company. I think its really important with the window of opportunity we have, not to squander it and do the best by Dundee and the wider region."
What if they do leave?
There is some precedent here: Michelin closed its Ballymena plant in Northern Ireland earlier this year, with job losses on a similar scale to those threatened in Dundee.
There are now plans to develop the site as a business park for other manufacturing companies, while the local council has taken over part of the site in a bid to turn it into a "logistics hub" to help with the expansion of Heathrow Airport.
Another former Michelin plant in Burnley, which closed in 2002, is now used by a firm manufacturing specialist car parts.
The government says it is "open to a range of ideas" about how the Dundee site could be used in future, and Mr Dunlop has been tasked with coming up with ideas about how it could be "repurposed".
This could be for work Michelin already does - such as research and development - or other uses.
Is there public money tied up in the factory?
The Scottish government has put £8m into the Dundee plant over the last decade - including a £4.5m grant in 2017 to help modernise equipment.
Mr Mackay confirmed that there are "claw-back conditions" in the grants which might see some taxpayer funds being repaid if Michelin does leave.
He said: "There's conditionality around the grants, and if they don't stay there would be claw-back of that. That's a few million pounds, that's incredibly important, but right now I'm focused on the jobs.
"All the other grants they met the conditions, but the most recent one they've only drawn down some of that, so that would have to be paid back. That's for the future though, righty now the mission is to save as many jobs as possible."
The finance secretary also said his "mind is open" to putting more money into the plant going forward - "that would be worth it if it retains jobs, if it gives a future and contributes to the regional and national economy".
Do these taskforces work?
This is not the first action group or taskforce set up to fight against the closure of an industrial landmark. Recent examples suggest that a deal is not necessarily out of the question, but nor should it be looked upon as a sure thing.
One success story is the Motherwell and Cambuslang steel mills mothballed in 2015 by Tata Steel, which were bought out by Liberty House via the Scottish government.
The facilities were formally reopened by Ms Sturgeon the following year, who praised the "tremendous team effort" of the steel taskforce.
There was initially hope for offshore manufacturing outfit BiFab, after it was bought out by a Canadian engineering firm in another deal brokered by the Scottish government.
However, all but a handful of staff were ultimately made redundant, with the yards in Fife and Lewis "effectively closed" while the company struggles to secure new contracts.
An action group was also set up in a bid to save the Pinneys plant in Annan after Young's Seafood decided to move production to Grimsby.
The plant shut its doors in September, although the government has pledged to keep working to find a buyer.