Tour guide shares tales of his life on the streets
By Dominic Howell
BBC News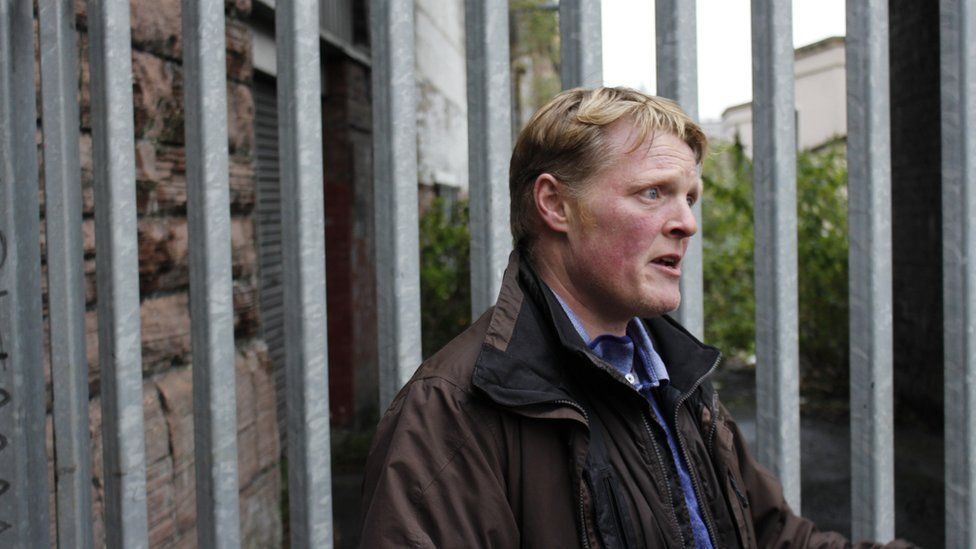 Forty-five-year-old Daniel Collins jokes that his main goal in life at the moment is simply to turn 46.
He is a former heroin user and gambling addict but also one of the stars of a project aimed at getting people who have experienced homelessness trained up as city tour guides.
The "Invisible Cities" scheme is now launching in Glasgow, with similar projects already running in Edinburgh and Manchester.
If you are considering going on one of Daniel's tours, prepare to see a side of Scotland's biggest city you might not have seen before, because it is not just Glasgow's past he will tell you about - it is also his own.
"I was injecting heroin four or five times a day - and I was hating myself for it," he says.
"I was just all about heroin back then, that's all I had to care about.
"And when I got off drugs, I replaced it with gambling.
"Everything I had in the bank would go, and then I'd have to lie to my partner.
"They got fed up with it in the end."
Born and raised in Glasgow, Daniel first started living on the streets at the age of 16.
Since then he has been in and out of hostels and temporary accommodation all over the city.
For seven years he worked selling the Big Issue in the city's west end, a time he remembers with fondness as it was during this period he began to overcome his addictions, and build his confidence in speaking to the public.
His skills as communicator are definitely on show during his tour.
There is an infectious honesty coupled with a healthy dose of gallows humour.
Starting at the People's Palace, one of the first stops is the entrance to Glasgow Green, where Daniel cheerily informs his audience that this was once a site of public executions.
He tells us that the last person to be hanged at the Green's famous Joceyln Gate was the Scottish doctor Edward Pritchard, known as the "poisoning philanderer", who was condemned to death for murdering his wife and mother-in-law in 1865.
But with every nugget of hard history, he delicately peppers it with eye-opening anecdotes about his own life.
Case in point is a gated-off alleyway on Clyde Street which used to be part of the Briggait Market.
He says: "It was down here that you could sell anything you'd shop-lifted, make some quick cash and then go and buy your drugs. Everyone was at it. The highest crime rates in the city were here.
"I was the worst shoplifter in the world - I got caught red-handed six times in as many months.
"I was staying in Hope House hostel at the time - it was nicknamed 'Hope-less House' because that's how your prospects seemed - pretty hopeless."
Across the road from this point is a bridge tower, in which, he explains, is a secret room that was often frequented by drug users who wanted a quiet place to inject, away from the prying eyes of the public.
"It was like Trainspotting in there, littered with needles and rats, it was really hard-core," he says.
But Daniel also hopes the tours will help to change public perceptions around homelessness, particularly in the run up to Christmas.
The death of Matthew Bloomer who was found in the front doorway of T J Hughes in Trongate last year still remains at the forefront of his mind.
"That was only round the corner from the Big Issue office on the steps of one of the biggest department stores in Glasgow - I mean how can people not see that," he says.
"No-one chooses to live on the streets."
A joint investigation by website The Ferret and the Bureau of Investigative Journalism earlier this year found that at least 94 people had died while homeless in Scotland in the past 12 months.
And this week the charity Shelter Scotland reported that for the first time since 2008-09 applications for homelessness status in Scotland increased, to more than 34,000.
Policy manager at Shelter Scotland Fiona King said: "We need to build more housing, more affordable housing and more social housing."
The woman behind Invisible Cities is 31-year-old Zakia Moulaoui who spotted a similar initiative being used in Greece and thought she'd bring the idea over to Scotland.
Ms Moulaoui started Invisible Edinburgh in 2016 and since then, a similar project is under way in Manchester, and it is hoped Glasgow's tour guides will prove just as popular.
Any profit made from the tours goes back into either helping the guides or organising events to benefit the wider homelessness community.
For example, in Edinburgh, Ms Moulaoui has also set up a street barbers, which gives homeless people free haircuts and shaves.
Daniel Collins' tour is entitled Crime and Punishment in Merchant City and can be booked by emailing glasgow@invisible-cities.org.