SQA chief executive Dr Janet Brown to retire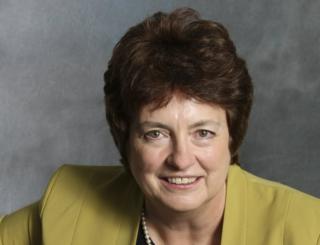 The head of the exams agency the Scottish Qualifications Authority (SQA) is to retire next year.
Dr Janet Brown was at the helm of the organisation through the biggest changes to the qualifications system for a generation.
She played a major part in the introduction of the National 4 and 5 qualifications and a shake-up of the Highers.
Her successor will be announced in due course.
SQA chairman David Middleton said: "I have conveyed to Janet the thanks of the SQA board of management for her outstanding service.
"The process of recruiting Janet's successor will begin shortly.
"In the meantime I know Janet's strong commitment to SQA and to Scotland's learners will continue as she will remain in post until a suitable candidate has been appointed. This will ensure the continued delivery of SQA's commitments."
Analysis - Jamie McIvor, BBC Scotland education correspondent
Dr Brown is hugely popular with her staff and some felt emotional when they heard of her planned retirement.
The introduction of the new qualifications system itself generally went smoothly.
However, there was much debate around the workload, bureaucracy and stress which some teachers claimed they led to.
Some within the SQA felt they were being unfairly blamed for issues which other stakeholders - such as individual schools, councils or Education Scotland - may actually have been responsible for.
Dr Brown also faced tough questioning from MSPs in 2015 after the pass mark in Higher Maths was cut dramatically after the paper turned out to be much harder than normal.