'Systematic' failings in mesh implants review
By Lucy Adams
BBC Scotland Social Affairs correspondent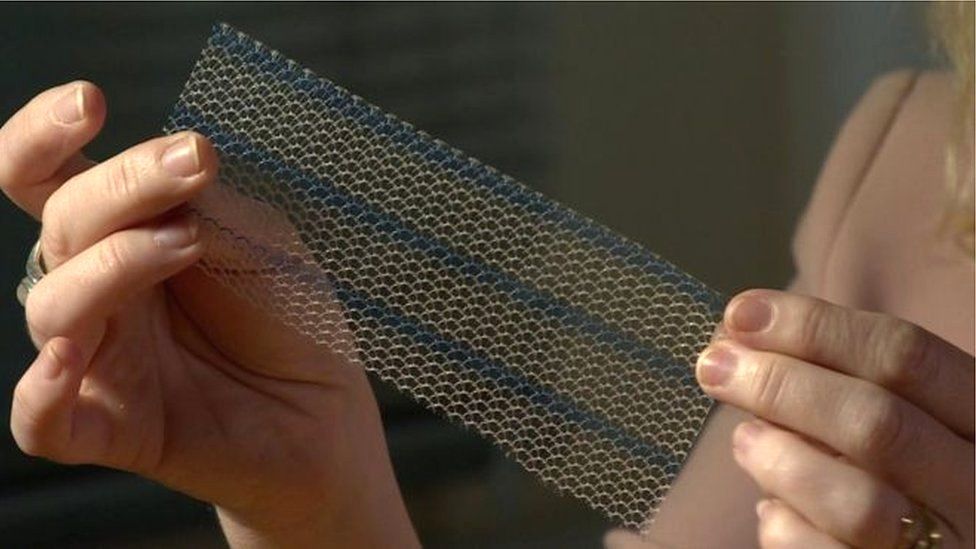 A Scottish government-commissioned report into the review on mesh implants has found it suffered "systemic" failings and potential conflicts of interest.
Prof Alison Britton has spent more than a year investigating the mesh inquiry.
She was also looking at how similar reviews should be handled in future.
Her report, seen by the BBC, says the original mesh review was "ill-conceived, thoughtlessly structured and poorly executed".
The Scottish government said it would now consider her findings.
The original mesh review was commissioned four years ago by former health secretary Alex Neil, after dozens of women spoke in the Scottish Parliament about how transvaginal mesh implants - used mainly to treat incontinence - had ruined their lives and left them in chronic pain.
The review was expected to take six to 12 months. Ultimately it lasted almost three years and, just weeks before it was published in May last year, three members resigned and branded it a whitewash after key warnings about safety were moved to the appendices.
As a result Shona Robison, then health secretary, announced there would be an investigative review to look into how the mesh review reached its conclusions.
Prof Britton, of Glasgow Caledonian University, was tasked with carrying out that review.
She told the BBC that the perception of independence was critical to maintaining public confidence. She found a "major failing" and omission within the review was that potential conflicts of interest were not declared or even discussed.
She found some members had been paid by the pharmaceutical industry, some were suing and some were being sued.
She said the majority of members ultimately expressed strong "negative" reactions towards their involvement in the review. Some even felt traumatised.
The report also looked at how such inquiries should be handled in future. It makes 46 recommendations including the creation of a bespoke "dedicated" unit to support reviews, their chairpersons and members to try to avoid similar failings.
Prof Britton says that although some see such inquiries as a cynical ploy, they are clearly here to stay.
She was surprised to find that the Scottish government did not have data on how many inquiries had been held in the past few years. She says there seem to be no established procedures for such inquiries and that guidance is piecemeal.
She recommends a new "test of impartiality" - with prior involvement and interests put out in the open.
Prof Britton said the remit, budget and perceived independence of future inquiries needed to be clear right from the start of future inquiries.
Over the past 20 years, more than 100,000 women across the UK have had transvaginal mesh implants, which are used to treat pelvic organ prolapse (POP) and stress urinary incontinence (SUI), often after childbirth.
The mesh, usually made from synthetic polypropylene, is intended to repair damaged or weakened tissue.
While the vast majority of women suffer no side-effects, others have reported chronic and debilitating pain, with some being left unable to walk.
In a brief statement issued on Thursday, a Scottish government spokesman said: "We received Prof Britton's Investigative Review into the Process of Establishing, Managing and Supporting Independent Reviews this morning.
"The Scottish government will publish this report tomorrow (Friday) and will give full consideration to the findings in due course."
Last month, Health Secretary Jean Freeman ordered health boards to "immediately" halt the use of transvaginal mesh implants in surgery.
The controversial implants were listed as an underlying cause of death of a woman in August, sparking calls for an inquiry and an outright ban.
Ms Freeman said NHS boards had been told to stop using mesh in cases of pelvic organ prolapse and stress urinary incontinence.
This will continue until a new "restricted use protocol" is drawn up.
There were calls for a fresh review of protocols in Scotland after it was revealed that mesh was listed as an underlying cause of death in the case of Eileen Baxter, of Loanhead.
The 75-year-old died in hospital in Edinburgh in August. While multiple organ failure was cited as the primary cause on her death certificate, "sacrocolpopexy mesh repair" was named as an underlying factor.
This is actually a different procedure to the ones now effectively banned, but it still led to calls for action at Holyrood, with First Minister Nicola Sturgeon saying she would "give careful consideration" to a review of the use of mesh.
Mesh implants are used by surgeons to treat conditions which some women suffer after childbirth, with the synthetic substance used to repair damaged or weakened tissue. More than 100,000 women across the UK have been given them over the past 20 years.
The use of mesh in Scotland was suspended in all but "exceptional circumstances" in 2014 after it emerged some women had suffered painful side effects - but the procedure has still been used hundreds of times since.
NHS England has also recently curbed the use of mesh on safety grounds, although it is still available as a treatment of last resort for some.