'Glasgow should own up to its dark secret'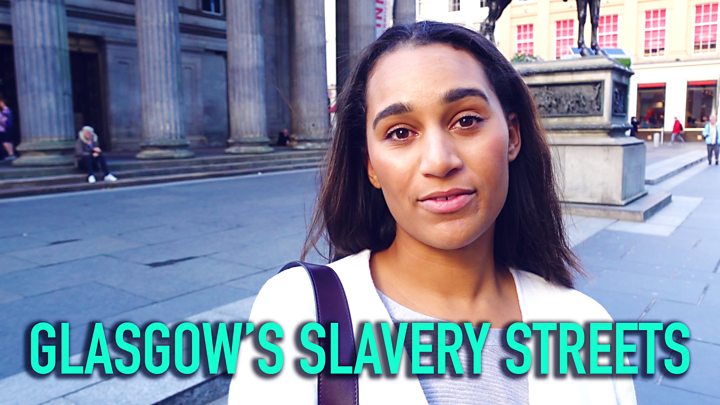 As a mixed-race Scot, whose grandparents were from Jamaica, Laura Cripps thinks it is time for Glasgow to own up to its "dark secret".
"Nobody tends to talk about it," Laura says.
"When you walk around, whether it's to go to dinner, go to work or go shopping, you see street names and statues but what you don't realise is that they are named after the men who owned plantations in Jamaica and America."
Many of the most prominent street names in Glasgow's city centre are named after 18th Century slave owners who made their fortunes on tobacco plantations.
Laura says there is no acknowledgement of where their fortunes came from and the exploitation that went with it.
Starting in the Merchant City, Laura took a short tour for BBC Scotland's The Social that went past streets named after four plantation owners.
The 26-year-old entrepreneur starts on Glassford Street which is named after John Glassford, a wealthy tobacco baron who owned plantations in Virginia and Maryland.
His family's portrait, painted by artist Archibald McLauchlan in 1767, is exhibited in the People's Palace.
"If you look close enough you can see what they've tried to paint out," Laura says.
"What they've tried to paint out is a black slave."
The employment of black servants was very fashionable among rich Glaswegians, who brought them over from the slave-worked plantations of the American colonies and the West Indies.
However, the servant was later painted out, perhaps due to anti-slavery sentiment in 19th Century.
Glassford is buried in Ramshorn Cemetery on Ingram Street, which is named after his brother-in-law Archibald Ingram.
Ingram also made his fortune with slave-owning tobacco plantations in the east coast of America.
At the bottom of Ingram Street, but actually on Queen Street, is Glasgow's Gallery of Modern Art.
It was formerly the home of William Cunninghame, who paid £10,000 for the mansion off the back of the plantations he owned in Jamaica.
He reportedly owned 300 slaves.
Cunninghame made a fortune stockpiling cheap tobacco shortly before the American Revolution in the 1770s and later selling at high prices.
Close to the gallery is Glasgow's main shopping street, Buchanan Street.
Andrew Buchanan was one of the first Scots to have tobacco plantations in the New World, with major holdings in Virginia.
It was Buchanan that created Virginia Street, one of the city centre streets named after slave-owning areas where the 18th century merchants made their fortune.
Jamaica and Tobago streets are also close by.
The final stop of Laura's short tour of Glasgow city centre is Dunlop Street, named after another family of tobacco barons.
"I've walked less than a mile and I've had to walk past street names and buildings that are named after five plantation owners," Laura says.
"Some may argue it was different time, and yes it was, but should they have their names immortalised in the street names and the places that they built with slave money?"
Laura says the past can't be changed but Glasgow should own up to its slave trade links like many other cities around the world have.
"Even one plaque on one street acknowledging this is where all the money came from," Laura says.
"It does not have to be on every street.
"I'm not saying take down street names. I'm not saying tear down the buildings. I'm just saying the slaves' names should be up there with them."