Talks held on lifting football's booze ban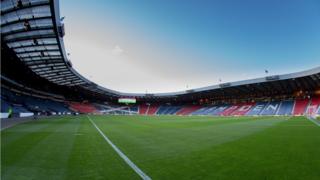 Talks have taken place that could lead to the lifting of the ban on the sale of alcohol at Scottish football grounds, BBC Scotland has learned.
The Scottish FA, Police Scotland and Scottish government officials have met to explore the idea of using the Euro 2020 matches at Hampden as a pilot.
As it stands, Glasgow would be the only one of 12 host cities where fans could not buy alcohol in the stadium.
It is understood some bodies involved are open to the idea of ending the ban.
Police Scotland said it would be prepared to discuss changes.
But Assistant Chief Constable Bernard Higgins said it needed widespread public consultation to prove there was an appetite for it.
The ban was initially imposed following a riot at the 1980 Scottish Cup final between Rangers and Celtic.
It means no alcohol can be served in football stadiums, although there is an exemption for corporate hospitality areas.
Any change in Scotland would require government legislation.
Why are there plans for change now?
The Euro 2020 championships could be the catalyst for change.
European football governing body Uefa has decided to relax its own rules on the sale of alcohol during its competitions.
This means the 12 cities across Europe that will stage matches can now sell alcohol if local laws allow it.
Hampden Stadium in Glasgow will stage three group stage games and one last-16 match.
Analysis by Chris McLaughlin, BBC Scotland sports news correspondent
The issue of alcohol in Scottish football has polarised opinion since a ban was introduced in 1980.
The nature of the Hampden riot and the outrage that followed, meant there was little opposition when the rules were changed.
Scotland was shamed into banning booze.
But a new generation of fans feel they are being punished for the sins of the past.
They are not asking to bring crates of lager or large bottles of cider into matches across the country, they simply want to be treated like fans of others sports who can buy a beer whilst watching from the stands.
Now the shame that saw it outlawed from football could force its return.
There are influential figures within the game, the government and the police, who are keen that Hampden isn't the only host city of Euro 2020 where fans can't buy alcohol in the ground.
The thought of having to explain why, has forced a rethink.
Those against are once again mobilising though - the Scottish Police Federation says the risk is just too great.
It's been discussed many times since 1980 but this time feels different.
The thirst for change has never been greater.
What has been the reaction?
The Scottish Police Federation, which represents rank-and-file officers, said it would strongly oppose the idea.
It said there was evidence that football authorities were already struggling to manage crowds appropriately.
David Hamilton, the SPF's vice chairman, said: "We don't have the same problems in rugby stadia that we do in football.
"We don't see toilets being trashed, we don't see pyrotechnics.
"They are particular problems for football and the idea of adding alcohol to that mix does not seem to make sense."
Dr Richard Purves from the Institute of Social Marketing at Stirling University is studying the link between alcohol and football.
He told the BBC: "When you mention something about alcohol availability in Scottish grounds, you will immediately assume Celtic and Rangers.
"I know there are talks ongoing to change the regulations but I don't see this being the case for big high-risk games.
"There needs to be more research in this area which answers questions like, why do people drink when they attend football games? how much are they drinking? Does this cause any harm? Then, how should government respond to try to limit any potential harm?"
In England, where there were similar problems in the 1980s, alcohol can be sold within the stadium but cannot be drunk "in view of the pitch".
This prevents fans from drinking while in their seats but allows booze to be sold before the match and at half-time.
Having a beer
Dundee FC's managing director John Nelms said he was in favour of something similar in Scotland.
He said: "We're in the entertainment business and having a beer and watching the match with your mates would be fantastic.
"Just a few weeks ago I was at the Man City v Liverpool match and they had beer at that game.
"They are football fans and they behaved appropriately.
"I know there have been problems in the past but in the modern day, I think it's much less of an issue. I also think it would help boost attendances, especially for the smaller clubs."
Andrew Niven, the Scottish Football Association's man in charge of staging the Euro 2020 matches, said he was aware of Uefa giving permission to sell alcohol in stadiums.
He said: "While we are open to exploring this, further discussions would be required with the Scottish government, Police Scotland and other stakeholders to properly assess the feasibility of legislative change."
A Scottish government spokesman said: "We will continue to discuss these issues with Police Scotland, the Scottish FA and a wide range of other organisations to ensure our national game is safe and enjoyable for all."