Progress on fairer Scotland 'stagnates'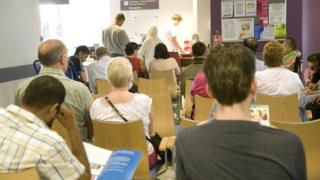 Progress on making Scotland a fairer and more equal society has stagnated, according to a report by the Equality and Human Rights Commission.
The body, which was set up to improve equality, said the concerns highlighted in its previous reviews were still evident.
The EHRC's Scotland Commissioner Lesley Sawers said: "Fairness should be at the heart of Scottish society.
"This review suggests that there is still some way to go."
The report highlighted differences in educational attainment, health, work opportunities and living standards among social groups.
'General stagnation'
It said women were less likely to be in work and they continued to earn less than men on average.
It also said those women who were in work continued to experience sexual harassment as well as discrimination related to pregnancy.
Meanwhile, disabled people were twice are likely to be unemployed and more likely to live in poverty, according to the review.
It also said differences in school attainment were evident as early as Primary 1, especially for children living in the most deprived areas.
Ms Sawyers said, despite much good work by the Scottish government and other agencies, there was risk that disadvantages could become entrenched.
'Decisive action'
The EHRC's "Is Scotland Fairer?" report is published every three years and looks at six areas - education, work, living standards, health, justice and participation.
It concluded that progress was not consistent or widespread.
It says: "We acknowledge that effecting change requires a long-term commitment and it can take many years before any change is apparent. However, the evidence in this review suggests a general stagnation in progress.
"We need to recognise where, and question why, stagnation is happening."
A Scottish government spokeswoman said: "Equality is at the heart of our vision for a fairer Scotland and despite equalities legislation being largely reserved, we continue to take decisive action on this issue. We will consider the recommendations in the report fully and respond to the EHRC in due course.
"Bullying of any kind is unacceptable and must be addressed quickly whenever it arises. We established respectme, Scotland's anti-bullying service, to work with local authorities, communities and other organisations to provide an overarching framework to prevent and deal with bullying."
Education
Levels of attainment at school generally improved but gaps persist
Differences in attainment were evident by Primary 1 (age five to six) - especially for children living in the most deprived areas
Girls do better than boys and some ethnic minority pupils perform well above the national average
Gypsy/Traveller pupils, those with additional support needs, looked-after children and pupils living in the most deprived areas had lower levels of attainment than average
Exclusion rates fell nationally but some groups continued to have much higher rates (Gypsy/Travellers, disabled pupils, those with additional support needs and pupils living in the most deprived areas)
Boys were more likely to be excluded than girls
There was no change in the level of young people not in education, employment or training (NEET)
The proportion of adults with a degree-level qualification increased
Work
The number of people in employment increased
Disabled people were less likely to be in employment
Women were less likely than men to be in employment and more likely to be in part-time work.
Young people were most likely to be unemployed and many were in insecure jobs
Women continued to experience sexual harassment and discrimination related to pregnancy and maternity in the workplace
There was a fall in earnings and little progress in tackling pay gaps
Women continued to earn less than men on average
Disabled people continued to earn less than non-disabled people
Women, young people aged 18-24, disabled people, black people and those in the Other White ethnic group were more likely to be in low-paid work
Women continued to be under-represented in senior positions
Living standards
Homelessness and access to a secure home continued to be an issue
There was a slight decrease in the number of homeless applications to local authorities.
The number of people, many of whom were children, being placed in temporary accommodation increased.
Asylum seekers were at risk of destitution throughout the asylum process.
Younger people were more likely to be in private rented accommodation than other tenures.
Many disabled people lived in homes that did not meet their requirements to live independently.
Nearly all measures of poverty showed an increase over time
The number of adults and children living in poverty after housing costs increased.
The number of adults and children being referred to a Trussell Trust Foodbank increased.
Wealth inequality increased, with single-adult households accounting for the majority of those living in low-wealth households.
Fuel poverty decreased but roughly a third of people still experienced it
Health
The number of people waiting more than 18 weeks from the point of referral for health services increased
Women had a higher life expectancy and healthy life expectancy compared with men
People living in the most deprived areas had lower life expectancy compared with those living in the least deprived areas
The overall suicide rate declined. The suicide rate was highest for those aged 35-44 and 45-54, and men were much more likely to die by suicide than women
The mortality rate from diseases of the circulatory system declined but the rate was much higher for men compared with that for women
The number of adults and children starting treatment for mental health conditions increased
The number of adults who reported poor mental health has not changed since 2010
Women, disabled people, single people and people who had previously been in a long-term relationship were more likely to report poorer mental health and wellbeing
The number of referrals to Child and Adolescent Mental Health Services (CAMHS) increased, yet one in five referrals were rejected
The majority of individuals who died by suicide had been prescribed at least one mental health drug in the year prior to their death
The number of Compulsory Treatment Orders (CTOs) increased, and their use was higher for males compared with females
Justice and personal security
The prison population fell marginally
The number of older prisoners increased
There was an increase in the number of incidents of self-harm and prisoner-on-prisoner assaults despite a reduction in prison overcrowding
The number of self-reported hate crimes and hate crime charges decreased overall
There was a decrease in the number of racially aggravated harassment and behaviour charges
There was an increase in the number of charges aggravated by prejudice related to sexual orientation, transgender identity and religion
There was a large increase in the number of reported sexual crimes; however, conviction rates, particularly for rape and attempted rape, remained low
Legal protection against abusive behaviour has been strengthened recently; however, the longer-term trend showed that the number of domestic abuse incidents recorded by police changed little over the last five years
Employment tribunal fees, which were declared unlawful, have had an impact on the number of claims made
Participation
Women, people from ethnic minority groups and disabled people continued to be under-represented in all areas of public life, including in the Scottish Parliament
While there was improvement in the proportion of women on public boards, the proportion of disabled people on public boards fell
Trade union membership continued to fall
Lack of access to affordable transport options negatively affected access to other essential services and employment
People living in poverty were less likely to have a bank account and more likely to pay more for essential goods and services
Disabled people and LGBT people reported that they continued to feel discriminated against while participating in sport or attending sporting events
Internet use increased for older people, although they were more likely to give out their personal information online than younger people