Scottish success in Britain in Bloom awards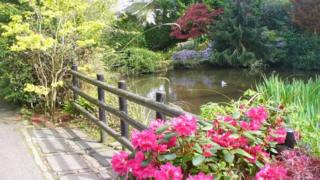 Scotland has won more awards than any other part of the UK in the latest Britain in Bloom competition.
All five Scottish finalists - Aberdeen, East Haven, Falkirk, Linlithgow and Perth - were given gold medals.
Four of them were also overall category winners, including Aberdeen, which was named best city.
Organisers said all those taking part had to cope with challenging weather conditions, including an unusually harsh winter.
Discretionary parks
Aberdeen was praised for "its horticultural delights" including its "jewel in the crown" parks, "beautiful and poignant" hospital roof garden, and wildlife areas.
The large town category was won by Perth, which also secured the discretionary parks and green spaces award for the quality of Riverside Park.
Linlithgow was named top in the best town category, with East Haven in Angus the overall winner for small coastal communities.
'Environmental quality'
Chairman of the judges Darren Share said: "This year's finalists faced the most challenging conditions the competition has ever seen with much of the country under snow and ice at the start of spring followed by the joint-hottest summer on record.
"That so many groups have walked away with top medals is remarkable and a reflection of communities' hard work, ingenuity and horticultural know-how."
Derek Robertson, chief executive of Keep Scotland Beautiful, said: "It's great to see such commitment to improving the environmental quality of the places they live in and care for - especially during such a hot summer.
"Keep Scotland Beautiful, in partnership with the RHS (Royal Horticultural Society), has supported the work of these community groups, and the many others like them, for decades.
"Their hard work - raising horticultural standards, focusing on sustainability and reaching out to their communities - has had a positive impact on all who live in and visit these locations."