Chris Pine kept up Scottish accent after filming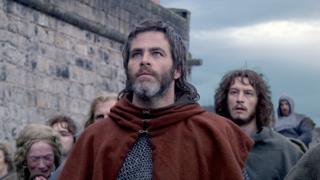 Hollywood star Chris Pine kept up his Scottish accent in the pub after filming a new drama based on the life of Robert the Bruce.
The US actor stars in a new Netflix biopic which premiered in Edinburgh on Friday night.
It tells the story of how Bruce led 500 men to defeat the larger and better equipped English army.
Pine told The Graham Norton Show how he continued to use the accent he learned for the role after filming each day.
He said: "I figured I'd get crucified for it but I had a wonderful voice coach and the cast were all Scottish so I figured they would pick me up on things," he said.
"I am not a method actor, but I would keep up the accent in the pub after filming."
'Full monty'
The actor also said he had no idea why his full-frontal nude scene for his role as Robert the Bruce caused such a fuss, and said the reaction revealed "double standards".
Pine said: "I bare the 'full monty' and it got a lot of attention... What did strike me most is that (co-star) Florence Pugh bares everything too and no-one commented.
"I am not sure what that means. Either people think they can't comment or everyone expects women to get naked. Either way, it's double standards."
Pine has previously said of the scene: "It was a man coming out of the water taking a bath, it seemed a little odd to wear underwear."
'Full monty'
Meanwhile, Gillian Berry, the Scots producer of Outlaw King, praised the actor's accent.
She told BBC Radio's Good Morning Scotland programme: "Someone showed me a little clip on YouTube the other day and it was a clip of Chris Pine arriving in Glasgow and mimicking a Glasgow taxi driver, as he was being driven through Glasgow, and his accent was absolutely spot on."
Ms Berry said the weather was kind to the filmmakers with only an hour of rainfall during the 15-week shoot.
She added: "I have never seen Scotland look so good on screen."
The producer said up to 1,000 people were on screen during the "brutal" battle sequences.
She joked: "We filmed 12 hours and that was hard enough.
"I don't know how Robert The Bruce managed it for 20 years."
The Graham Norton Show, also featuring Sir Michael Caine, actress Sally Field, US actor Rami Malek and Christine And The Queens, is available on the iplayer.