'I feel abandoned by the Army'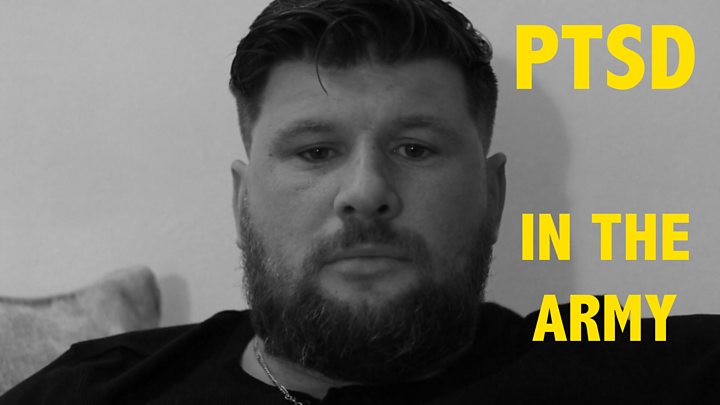 A former soldier has told the BBC how he felt "abandoned" after leaving the Army and had to deal with PTSD (post-traumatic stress disorder) without support.
Johnny Allison says: "We give the Army everything, absolutely everything - our youth, our lives, our family's lives.
"When you leave those gates, that's you, you're out."
Speaking to BBC Scotland's The Social, the 34-year-old said he signed up to join the Army when he left school in Uddington, South Lanarkshire, at the age of 16.
Two weeks after going into the recruitment office he was in Army training, he says.
"The process was quite quick for myself. I loved it from day one."
Johnny, who was an infantry soldier with the King's Own Scottish Borderers, said his first tour of duty was in Iraq when he had just turned 18.
"I remember being quite excited about it," he says.
"When you're there, you put everything in the back of your head, and get on with the touring.
"I witnessed things I suppose it would probably be naive not to think you would witness - decomposing bodies and stuff like that."
Johnny says it quickly began to have an affect on him.
He says: "I mind my mum trying to talk to me and saying right away, 'I don't know who you are anymore. You're not the same boy that went away'."
Johnny, who lives in Cambuslang, describes the problems he had when he came back from his tour of duty.
He says: "I remember walking up from my house up to the main street, and a firework went off.
"It was a banger, it was around firework time, and I hit the deck.
"And I remember the embarrassment and the fear I felt with that happening.
"I ran for a drink," he says.
"That was my answer to stopping me feeling the way I was feeling."
Johnny later served in Afghanistan.
He told The Social: "In 2010, I went back in. I was part of 1 SCOTS and we went out to Afghanistan.
"We lost two guys out there and a lot of other guys got injured, and the battle group we were part of, they got hit quite bad.
"I came back from there and I started having flashbacks, panic attacks, anxiety attacks. I wasn't sleeping, my aggression and anger was totally out of control.
"I find it very hard to explain the thoughts that were going through my head."
Johnny says he could not process what was happening and was drinking continuously to try to cope.
Johnny credits his wife with saving his life.
He says: "If it wasn't for my wife, I wouldn't be here. The thing is, my wife's prepared herself to come home and find me dead one day.
"She just hung onto me, hung onto me long enough to get that bit of help.
"The help that I've had to seek has been through charities, and I don't know what I would've done without them."
Johnny, who has two young children, left the Army in 2013.
After battling with alcohol addiction, he was diagnosed with PTSD in 2014.
He says that once he stopped drinking he was able to seek the proper help he needed.
He now tries to raise awareness of PTSD and help anyone that is still suffering.
Asked whether he thought the Army was worth it, Johnny says: "Not now."
In response to the video, a government spokesperson said: "We take the mental health of service personnel and veterans extremely seriously, and we encourage anyone struggling to access the extensive support available.
"We have increased spending on mental health to £22m a year, and we are working hard to tackle any perceived stigma around mental illness.
"Earlier this year, the MOD set up a 24/7 mental health helpline for serving personnel, so that there is always somewhere to turn in times of crisis."