Bake Off finalist James Morton's book stirs up Shetland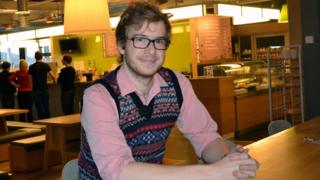 A cookbook by a former Great British Bake Off finalist has stirred up a storm in Shetland.
James Morton, who was a contestant in 2012, and his broadcaster father Tom have released a book called Shetland: Cooking on the Edge of the World.
It is billed as a celebration of food and life in Shetland.
But it has been bombarded with one star online reviews from people claiming it paints a disgraceful and untrue picture of life in the islands.
James Morton, 27, grew up on Shetland and his father has lived in the north of the mainland for 30 years.
But that has not stopped them including comments that have incensed people on the small but successful fishing island Whalsay.
In 2012, skippers from the island, which lies just east of Shetland mainland, were among those embroiled in the biggest fishing scam in Scottish history.
The "black fish" scandal saw skippers fined tens of thousands of pounds for under-reporting their catches of mackerel and herring that breached EU quotas.
But the recipe book inaccurately claimed that one skipper had been fined £47m for his part in the scam - when actually £47.5m was the total value of all the illegal fish landed in Shetland.
In the Mortons' recipe book, an original poem written by James includes various references to illegal fish landings, clubbing seals and what some have construed as a comment about drug abuse among fishermen.
Poem from the book:
Cash. That annual quota hit after two weeks.
Fisherman means black fish. International landings onto rigged scales.
Unscrupulous baby seal bludgeoners. 24 hour shifts fuelled by
what's behind the hidden door
The destruction of the sea on which they sail.
Don't call me a fisherman, but I like fish. I like to fish.
Not for sport, without challenge. For food, not profit.
For liberty, not stress.
'Mega-rich'
While the poem doesn't specifically reference Whalsay it has been inserted into the middle of a page about the lucrative fishing industry there.
The page also makes a point of describing the island as being "mega-rich".
The authors top it off by taking a pop at the Whalsay accent, describing it as "incomprehensible" even to other Shetlanders.
Councillor Duncan Simpson, who lives in Whalsay, says there is a real mood of shock in the community.
"I have no idea what he was thinking," he said.
"I'm failing to see the relevance of any of this to Shetland cooking. I'm not sure what the need for it was in the first place."
James took to Twitter to defend his father's right to speak out about what he describes as the "vast wealth" of fishermen.
He also tweeted: "The book promotes the beauty and wonder of Shetland, including Whalsay.
"Turns out a few fishermen can take neither a joke, nor face up to their colleagues' convicted criminal past, nor do they like having their wealth exposed."
Asked by BBC Scotland about his response to the backlash, James Morton said that while he was "very sorry" and "didn't mean to upset anyone", he thought it was important to highlight "both sides" of the fishing sector.
Tom Morton branded islanders "oversensitive" and said they were "petty" for posting bad reviews on Amazon.
Tom said: "It is unfortunate and petty for anonymous comments to be placed on Amazon.
"I think the point that we were trying to make was about how indiscriminate and thoughtless industrial fishing does affect the long-term viability of what is a very precious resource for Shetland."
The Shetland Fishermen's Association declined to comment on the story saying they didn't want to give it publicity.