Number taking ADHD drugs in Scotland rises by 10% in a year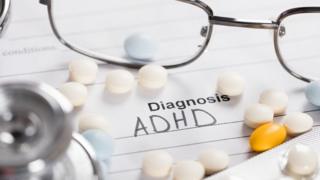 The number of people receiving drug treatment for ADHD in Scotland has gone up 10% in the last year.
Official figures show 13,000 patients were given drugs for the condition.
A report on mental health medication over the last decade has also shown a steady increase in the dispensing of anti-psychotics, anti-depressants and drugs for ADHD and dementia.
The Scottish government said it was committed to providing the right mental health help at the right time.
The number prescribed medication for ADHD has almost doubled since 2009/2010.
Ten to fourteen year olds made up the largest number of patients to receive the drug treatments.
Adults can sometimes be treated for ADHD, or attention deficit hyperactivity disorder.
'Person-centred'
Sam Siggs, who is 31, was diagnosed with ADHD in his early 20s.
He is managing his condition with medication but thinks there should be a more holistic approach to treating the condition.
He told the BBC: "The medication needs to be person-centred because not every medication is going to be right for everyone.
"The first medication I was on helped but also hindered creativity so it wasn't right for me but through speaking to my GP meant I got on the right medication for me. It worked for me."
But Sam thinks giving drugs alone is not the answer. He believes it should be followed up.
He said: "I know of people having difficulties with the GPs referring them to the specialists they need and also they get the quick fix of Ritalin and no follow-up care."
Sam also thinks the more people understand about the condition, the easier it will be to treat.
"ADHD is becoming, with more research, less of a myth and more of a legitimised thing. That way care across the board, be it medication or support, will be easier to access."
The number of people given antidepressants in Scotland has reached a new high, according to the same report.
The official figures reveal that more than 902,000 people were dispensed at least one antidepressant drug last year.
That marks a 42% increase in patients receiving the drug since 2009/10, according to ISD Scotland.
It also reported a 73% rise in the number of antidepressant prescriptions over the last decade, from 3.8 million in 2007/08 to 6.6 million last year.
Antidepressants are commonly prescribed to treat depression but some types of the drug are also used to treat conditions including migraine, chronic pain and ME.
A breakdown of the figures show that around two thirds (65.8%) of patients dispensed the drugs are women.
Responding to the figures, a Scottish government spokesman said: "We are committed to tackling stigma and making sure people get the right mental health help in the right place at the right time.
"Prescribing is a clinical decision, based on clinical need and supported with clear discussions between the prescribing clinician and patient within the context of their long-term recovery.
"All prescribing should be in line with clinical guidelines and evidenced-based practice.
"The cost of providing medicines for mental health is affected by factors such as the increasing number of people seeking help, fluctuations in the availability of drugs and ingredients, and drug patents expiring, which allows cheaper options to be supplied."