Comic creator Mark Millar in tribute to 'forgotten' soldier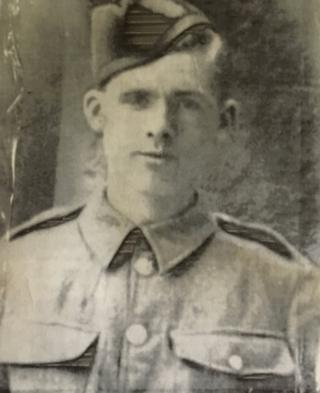 The relatives of a Scots soldier will attend a memorial service in a French village 100 years after his death.
Cpl Peter O'Hare, from Coatbridge, was one of 14 men from the Cameronians (Scottish Rifles) Regiment who died near Clary on 9 October 1918.
Comic creator Mark Millar will be among relatives who will simultaneously lay a wreath in his Lanarkshire home town.
Iris Anderson, 67, a great niece, said many in the extended family around the world had not been aware of the story.
She and another relative of Cpl O'Hare, who was 21 when he died, will attend the centenary memorial service on Tuesday.
She said: "I sent a message expressing gratitude to the people of Clary for wanting to mark the death of my great uncle.
"They are unveiling a granite plaque to the Cameronians (Scottish Rifles) on the day."
She said: "It's a very touching thing for the village to do.
"It's a very small place of about 1,500 people - for them to mark it in this way is quite remarkable."
Cpl O'Hare was among 14 men from the 1st, 5/6th and 18th Battalions of the Cameronian (Scottish Rifles) Regiment who died liberating the area.
Eleven of the fallen were Scots and three were English.
Only the relatives of Cpl O'Hare have come forward despite appeals in Ayrshire and East Dunbartonshire, where a number of other men were from.
Ms Anderson said she had only been aware of her relative after researching the family history last year.
And news of the commemorative service in France only emerged last week after a regimental association uncovered the names and circulated the details to local media.
Millar, who sold his comic empire Millarworld to the streaming giant Nextflix last year, posted a message about his uncle on Facebook.
He wrote: "It's an amazing story and a poignant one for our large, extended family of O'Hares."
He said: "His story is 100 years old and many details lost in the mists of time, but our family recently received the very sad, homesick letters he sent to our grandmother when he was serving in France and it gives an insight into just how young he was."
He added: "I hope to see our cousins at the cenotaph where his name has been displayed all these years.
"We'll take pictures for our cousins in New Zealand, England and Canada of course.
"But this really is a tremendous honour for all his living relatives, a young Coatbridge guy paying the ultimate price to ensure the freedom of people he had never met."
A wreath-laying ceremony will take place at the cenotaph in the Lanarkshire town at the same time villagers in France mark the centenary.
Ms Anderson said: "Since the news of the service came about we are now in touch with relatives we hadn't been aware of before.
"A relative I am in contact with in Australia had passed the information on to the O'Hare side of the family.
"They have now been in touch as well - it's grown arms and legs.
"All the disparate parts of the family who are scattered all over the world are now talking to each other, sharing information and posting on the Facebook page."
Douglas Torrance, at the Cameronians Families Organisation, said: "Many of the relatives were not even aware of Cpl Peter O'Hare or what he had done.
"The people of the Clary had got in touch with our organisation to trace family members.
"It's an amazing gesture - they still remember men who died for their freedom 100 years ago.
"Most of these lads are forgotten about after a couple of generations and most people don't know they existed.
"It's a wee bit overwhelming thinking about it."