Campaigners urge ministers to 'up their game' on climate change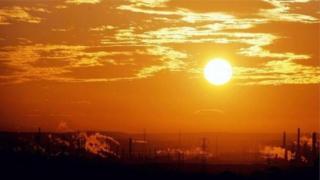 Environmental groups say a meeting of the world's leading climate scientists should prompt the Scottish government to up its ambitions.
Experts gathering in South Korea are set to urge governments to go "further and faster" to halt global warming.
Scottish ministers stopped short of seeing a date to become fully carbon-neutral when the Climate Change Bill was published in the summer.
The government insists its plans are already ambitious.
However, WWF Scotland says the option should remain on the table.
The bill proposes increasing the 2050 target for reducing greenhouse gas emissions from 80% to 90% against 1990 levels.
It adds that the 100% target should be set once a clear pathway to achieving it is established.
'Lack of action'
Gina Hanrahan, acting head of policy at WWF Scotland, said: "We'd really like to see the Scottish government aiming high on climate change.
"It's already doing very well but it needs to up its game in response to international momentum and new climate science that's coming through.
"We'd like to see the Scottish government aiming to eliminate its contribution entirely to climate change by 2050."
A recent report from the Committee on Climate Change, which advises ministers, said progress in decarbonising the power sector was masking a lack of action in other areas.
It cited transport and agriculture as two areas where progress had been slow.
Some farmers are participating in schemes to reduce their emissions but the report criticised the fact these measures are only voluntary.
Farmer David Barron runs a "climate change focus farm" at Mintlaw in Aberdeenshire which trials ways to reduce the carbon footprint.
He has taken steps to minimise fuel consumption by adding hydrolysers to his tractors which inject hydrogen through the air intake.
His red diesel bill has fallen by 20% as a result.
Mr Barron said: "I found it difficult for a start but easier as we've gone on, as we can see the benefits.
"We've improved our grassland management, I've improved my drying ability and am growing easier crops to take down the carbon footprint."
But not everyone around him embraces what Mr Barron is doing.
He said: "I think there's a lot of rolling of eyes going on.
"I just want to be more profitable and leave my farm in a better place for the next generation."
Alan Bruce, senior agricultural consultant at SAC Consulting, added: "In some ways it is very difficult but in some ways it's very, very simple.
"A lot of the things that improve their carbon efficiency also improve their production efficiency at the same time, so it's a win-win for farmers in a lot of cases."
In 2015, world leaders agreed to limit global temperature rises to less than 2C in what was known as the Paris Agreement.
Future target
Scotland's Climate Change Bill has been praised by one of the architects of the agreement, Laurent Fabius, as "an example of concrete application of the Paris Agreement".
Mr Fabius was president of the UN Climate Conference where the pact was agreed.
The Scottish government's environment secretary, Roseanna Cunningham, points out that the current bill leaves open the option for setting a 100% target at some point in the future.
She said: "We are already one of the countries which is leading and I think it's important for us to emphasise that.
"Going further means being credible and realistic and actually showing how it's going to be workable."