The Sunday night drama plugging the gap left by Bodyguard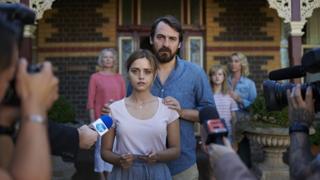 A stressful long-haul flight from Glasgow to Australia with a 10-week-old baby was the inspiration for the BBC's latest big-hitting Sunday night drama.
Filling the gap left by the smash-hit series Bodyguard, The Cry is a four-part psychological thriller starring Doctor Who's former assistant Jenna Coleman.
The "excruciating" scene on the plane is a pivotal part of episode one, during which a young family is travelling from Scotland to Australia.
When they arrive in Australia the new parents, Joanna (Coleman) and Alistair (Ewen Leslie), face a tragedy that changes their lives and their marriage forever.
It was adapted from a novel written by Glasgow-based Australian Helen Fitzgerald who admits the flight was "100%" based on personal experience.
"I have a photo of me and my daughter on exactly that flight when she was 10 weeks old and she cried all the time," Ms Fitzgerald, who appeared on BBC Scotland's Timeline programme.
Describing it as a "pressure cooker environment", she said other passengers were extremely annoyed with her.
"I felt like a complete and utter failure as a mother," she added.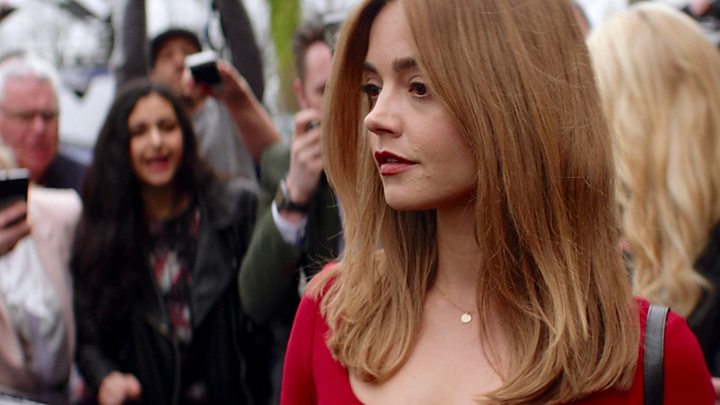 In The Cry, Joanna is exhausted, tired, isolated and not coping with her new baby who cries throughout the flight.
"I wrote that scene first in the book and it's just kind of 30 pages just on an aeroplane with a crying baby," the author said.
In the TV series, she said the scene was "excruciating and that's exactly what it should be".
The series was filmed in Glasgow - Ms Fitzgerald's home of 27 years - and Point Loinsdale, her hometown in the Australian state of Victoria.
"It's quite incredible that it's my hometown there and my hometown here," she said.
"And the flight and everything, it does feel like I'm watching my life - though obviously I haven't got any nasty secrets."
But she said the Australian director Glendyn Ivin wanted to make both locations look slightly unreal and disconnected.
"That's how it does feel when you've got a new baby - and you add on top of that a 21-hour flight," she said.
Ms Fitzgerald, who despite her Australian accent has lived in Glasgow for longer than her native country, was working as social worker in the city when The Cry was published in 2013.
It was quickly picked up by developers keen to bring it to TV screens but she decided to not to get involved with the process.
She only watched the series for the first time a month ago but is clearly delighted with how it worked out.
"It's not just a relief - I couldn't get over it," she said, knowing that screen adaptations can end up very different to their source material.
"All the plot points are there, what's important about the characters are there but not only that - it's enhanced so much," she said.
'Over the moon'
"The directors and the actors and every single element of it and Jacquelin Perske's script really brought it to life like I could never have imagined."
She was especially delighted with the casting of Asher Keddie - "Australia's Olivia Colman" - as Alistair's ex-wife, Alexandra.
"I've written tonnes of books and I've never cast anybody in my head," she said.
"A lot of writers don't usually. Probably because you're usually writing about yourself, I think.
"But I hadn't pictured anyone but Asher. So when I wrote Alexandra's character, I absolutely had her in my character. I was over the moon when I heard she was on board."
But of course the big question for viewers is: can The Cry follow the success of Jed Mercurio's Bodyguard?
The series, featuring Elderslie-born Richard Madden, was the most-watched BBC drama since the Dr Who Christmas episode in 2008.
An audience of 11 million tuned into the last five minutes of the final episode as it reached its much-anticipated climax last Sunday.
Ms Fitzgerald knows there will be pressure on The Cry to perform well in the ratings.
But she added: "I'm not even entering into that competition.
"What did they get - 10.7 or 11 million viewers or something? Which is just phenomenal and it was a great show, I loved it.
"And this was a great show too - hopefully people will tune in. But I'm not going to set myself up for that kind of competition."
Despite that, she admitted that it was "nerve-wracking but exciting" waiting for the reaction to the series.
"When I saw it myself I was filled with excitement and adrenaline but it is making me feel slightly sick."
The Cry will be available on the BBC iPlayer shortly after broadcast