New flu vaccine only available to over-75s in Scotland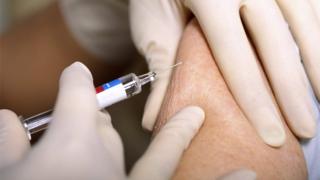 A new flu vaccination that is recommended for everyone aged over 65 in other parts of the UK will only be available to over-75s in Scotland.
The Fluad jab is said to be more effective in protecting older people from three different strains of flu.
But the Scottish government said it had been unable to buy enough of it in time for this year's vaccination programme.
It will therefore only be offered to those aged over 75 this year rather than everyone over 65.
Fluad has been used in other European countries for several years, but was only approved for use in the UK at the end of 2017.
The jab has an added ingredient that is designed to create a stronger immune response - which is important for older people because their immune systems are often weaker and respond less well to some vaccines.
The NHS in England and Wales has recommended that Fluad is given to everyone over the age of 65.
But Scotland's public health minister, Joe FitzPatrick, told Holyrood on Tuesday that only people aged over 75 would receive it in Scotland, with the half a million people aged between 65 and 74 continuing to be offered the standard vaccination.
'Ramp up production'
Mr FitzPatrick said the new vaccine was currently manufactured by only one supplier, who had to "significantly ramp up their production for the whole of the UK very quickly".
Differences in the way flu vaccines are ordered across the UK meant the supplier was unable to guarantee NHS Scotland sufficient supply of the vaccine for everyone over 65 in time for the start of this year's vaccination program, he added.
Mr FitzPatrick said the Scottish government had taken expert advice to prioritise the over-75s who will "derive the greatest benefit" from Fluad.
And he stressed that there was clear clinical evidence that the standard vaccine still provides protection to those aged between 65 and 74.
Flu vaccinations in Scotland are bought centrally, while in England and Wales they are bought by individual GPs - which Mr FitzPatrick said had led to vaccine shortages and variations in access in the past. He added: "These are problems that we don't face here in Scotland."
But Labour's health spokesman, Anas Sarwar, said the announcement was particularly concerning as flu deaths increased from 71 in 2016/17 to more than 330 last winter.
And he said the roll-out to over-65s in England and Wales was expected to mean tens of thousands fewer GP appointments, and to save 700 lives.