Scots' life expectancy falls for first time in 35 years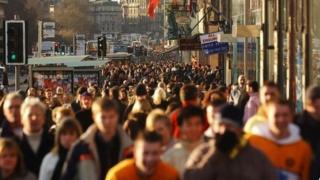 How long men and women in Scotland can expect to live has fallen for the first time in 35 years.
National Records of Scotland (NRS) figures show life expectancy fell by about 0.1 years for males and females.
Between 1982 and 2017, the length of time people are expected to live has risen by 7.9 years to 77 for males and by 5.8 years to 81.1 for females.
Wales recorded a similar fall for both sexes, while life expectancy has stalled in England.
Scotland still has the lowest life expectancy of all UK countries.
The decreases in Scotland were recorded for people born between 2014-2016 and 2015-2017.
Life expectancy is an estimate of the average number of years a new born baby would live based on that area's age specific mortality rates.
Meanwhile, latest figures estimate there were 900 people aged 100 or over living in Scotland in 2017.
No change
This is up 45% on the estimate of 620 in 2007, but down on the largest estimate of 920 centenarians in 2016.
Average UK life expectancy figures have been issued by the Office for National Statistics (ONS).
They show a girl born between 2015 and 2017 is expected to live until 82.9 years old - no change on the previous figure for 2014-16.
The figure for baby boys born in 2015-17 is also unchanged, at 79.2 years.
For females in Northern Ireland, and for males and females in England, life expectancy at birth is unchanged.
Sophie Sanders, of the ONS Centre for Ageing and Demography, said the figures represented "the lowest improvements in life expectancy since the start of the series in 1980 to 1982".
"This slowing in improvements is reflected in the chances of surviving to age 90 years from birth, which has also seen virtually no improvement since 2012 to 2014," she added.
Life expectancy in the UK remains lower than in many other comparable countries internationally, the ONS also found.