Ayrshire police play ACE card in drive to reduce crime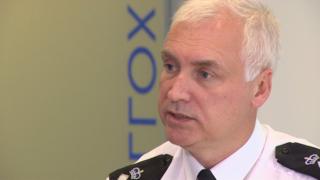 Police Scotland has emerged as a leader in a campaign to make Scotland the world's first "trauma-aware" nation.
All 850 officers in the force's U Division, based in Ayrshire, are to receive training in the science behind Adverse Childhood Experiences (ACEs).
The study of ACEs is beginning to drive social policy in Scotland.
Senior officers said their policy was born out figures showing 80% of calls to police concern vulnerable people, and not crime.
Ch Supt Paul Main, U Division commander, said it was important for police to adopt a different approach to their work.
"I am fed up putting people to custody, I'm fed up sending people to court, I'm fed up with the judges sending people to prisons," he said.
Ch Supt Main added: "And what we've got is more homelessness, more drug-related deaths, more suicides and more people at risk of harm. We need to do something different.
"We may still be arresting people. We may still be putting them to court.
"But actually we need to look collectively and say 'So what. How can we prevent this happening again?'"
Each of his officers will watch the documentary film Resilience, produced by James Redford, which lays out the way in which ACEs can cause problems in adulthood.
---
What are ACEs?
There are 10 traumatic events in childhood which can can cause difficulties in later life. They were identified by the American Centers for Disease Control and Prevention. They are:
Physical abuse
Sexual abuse
Emotional abuse
Physical neglect
Emotional neglect
Exposure to domestic violence
Household substance abuse
Household mental illness
Parental separation or divorce
Incarcerated household member
What are the effects of ACEs?
Research at the University of Bangor in Wales suggested the more ACEs a person has, the more likely they would suffer mental health issues, drug or alcohol addiction or incarceration themselves. Those with at least four ACEs were:
Four times more likely to be a high-risk drinker
Sixteen times more likely to have used crack cocaine or heroin
Three times more likely to suffer risk of heart disease, respiratory disease and Type-2 diabetes
Fifteen times more likely to have committed violence
Fourteen times more likely to have been victim of violence in the last 12 months
Twenty times more likely to have been in prison at any point in their life
---
Dr Suzanne Zeedyk, a researcher at Dundee University, said: "Children's physiological systems are immature, they are still developing the capacity to cope with strong emotions like fear, terror, anger, sadness, uncertainty.
"If they have to endure touch emotions without adult help, their biological self-regulatory systems develop in a fragile way.
"They are more likely to need external help to handle tough emotions, such as smoking, drinking, drugs, eating or punching."
The police initiative in Ayrshire has been taken up by two local authorities and the county's health board who have also adopted a "trauma-aware" approach.
At Loudon Academy, an 850-pupil high school in Galston, head teacher Scott Robertson said it has meant taking a new approach to children turning up late, unwashed or without homework - issues which in the past may have been resulted in disciplinary action.
"By looking at it terms of ACEs in a more relationship-based framework, we are able to try to dig deep into the issues that are actually going on," he said.
"Our exclusion rate probably for the last two or three years was about 50 pupils per 1,000. This year we were down at 18.
"So we have more than halved our exclusion rate and our core mantra about Loudoun Academy is: if we can get pupils into school, they will achieve."