Contaminated blood: Why a new inquiry after Penrose?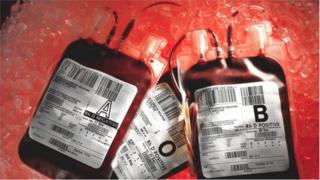 A UK-wide public inquiry into the contaminated blood scandal of the 1970s and 80s is under way in London.
It comes three years after the Penrose Inquiry in Scotland examined how thousands of patients here were infected with hepatitis C and HIV.
That inquiry, led by a former High Court judge, took six years and cost about £12m to complete.
So, what are the key issues round the new inquiry?
Why are we having a new inquiry when Scotland has already had one?
Although Penrose was the first statutory inquiry in the UK that looked into the scandal, its powers and terms of reference were limited.
It examined the systems and procedures in place in Scotland during the period, but it did not have power to compel witnesses outside Scotland to attend.
This was a major drawback, since health policy before 1999 was controlled by Westminster and many crucial decisions were made by England-based politicians and civil servants.
Ultimately, the Penrose report was labelled a "whitewash" when it was published in March 2015.
It estimated 3,000 patients in Scotland were infected with tainted blood products but the Department of Health has gauged the figure was 30,000 UK-wide.
Many more questions remain about what happened in other parts of the UK, which campaigners hope will be answered by the new hearing.
Greater Manchester mayor and former health secretary Andy Burnham has repeatedly called for a probe into what happened.
The government ordered the inquiry last July after it faced a possible defeat in a vote on an emergency motion.
What did the Penrose Inquiry conclude?
The Penrose Inquiry said few matters could have been done differently and made only a single recommendation.
That was that anyone in Scotland who had a blood transfusion before 1991 should be tested for Hepatitis C if they have not already done so.
There was an angry response to the report from victims and relatives who had gathered at the National Museum in Edinburgh to see its publication.
It concluded: "The legacy of the period when viral transmission via blood and blood products was occurring continues to be severe for many people, whether due to ill-health or loss of a loved one.
"There is one respect in which the Inquiry can recommend action to prevent suffering from being greater than necessary - the detection of those whose transfusion transmitted Hepatitis C infection is still undiagnosed."
What has happened in Scotland since the Penrose Inquiry?
A working group was established by former health secretary Shona Robison in the wake of the report.
It was charged with assessing the number of people who contracted Hepatitis C, and how many could still be undiagnosed.
It also looked at whether uptake of blood tests had increased after the publication of the Penrose Inquiry report, and if any further action was needed to trace undiagnosed people.
The group estimated there could be "a small number" of undiagnosed people still alive in Scotland who were infected with Hepatitis C by pre-1991 blood transfusions.
It said the risk of infection was small, but anyone who was seriously ill in hospital before September 1991 and believed they might have had a blood transfusion were encouraged to seek further advice.
What will the new inquiry mean for Scottish victims?
The new inquiry is UK-wide and will look again at what happened to patients in Scotland.
The new inquiry may come to Scotland at some point to gather evidence but may call witnesses to London too.
If the fresh inquiry throws up new findings, it will have implications for Scottish victims who are still demanding compensation for what they went through.
Thompson's Solicitors are representing 250 Scottish families and victims at the public inquiry.
Also, the likelihood of further recommendations from a new hearing may compel Scottish ministers to act and make changes to the system.
Are the issues the same for victims across the UK?
According to campaigners, the background to the disaster in Scotland is very different to what happened in the rest of the UK.
While England and other areas were relying on imported blood products during the period because of shortages at home, Scotland was largely self-sufficient in its supplies.
This poses question why centres in Scotland decided to use commercial products when there was a free alternative available to them, according to Haemophilia Scotland.
The new inquiry may explore these differences when it begins taking evidence in the spring.