Booze label warnings 'years out of date'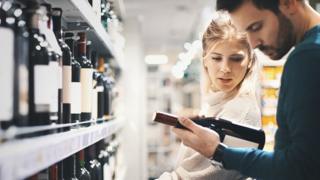 Fewer than 10% of alcoholic drinks carry up to date health warnings, according to campaigners.
A new study claims multi-national alcohol companies are choosing to ignore advice to display important health information on products.
One charity claims a pint of milk is required to show more information than a bottle of wine.
Pressure is growing on alcohol producers to display better warnings about the dangers of alcohol to health.
The Alcohol Health Alliance, a coalition of 50 organisations, found fewer than 10% of 300 products they surveyed carried the safe drink guidelines of 14 units a week.
This came into effect two-and-a-half years ago, but some products carried the old limits and most carried no warnings of the risk of disease from drinking.
On Thursday the chief executive of one Scottish alcohol charity raised the issue at the AGM of the drinks giant Diageo.
Alison Douglas, chief executive of Alcohol Focus Scotland said: "It is notable that the global multi-national producers do not seem to have made any effort to update their labelling to communicate the current low-risk drinking guidelines, while some smaller independent producers have done so.
"The Alcohol Health Alliance surveyed more than 100 Diageo products and not one of them included the current guidelines of 14 units a week.
"Referring people to industry-funded websites is not good enough. We need reliable health information directly on bottles, cans and menus, where it can usefully inform our decisions. At the moment more information is required on a pint of milk than on a bottle of wine. The public deserves better and industry clearly won't do this voluntarily; it's time for government to act."
The Portman group, which represents drinks producers, said bottle labels direct consumers to a website containing up to date health information.
'Robust system'
Portman CEO John Timothy said: "Producers are currently in the process of updating products to include three clear elements; units in products, a pregnancy warning and a link to the Drinkaware website.
"A deadline has been agreed with the Department of Health for out-of-date information to be removed by September 2019.
"People are increasingly accessing their information online which is why it makes sense for labels to signpost consumers to the Drinkaware website where they can get all up to date health information and guidance.
"We have a robust system of self-regulation and a firm Code of Practice to ensure alcohol products are marketed responsibly."
The AHA said that drinkers in Scotland are being kept in the dark about how to minimise their risks from a range of medical conditions, including seven different types of cancer.
The study shows how little progress has been made over the last year since a similar AHA review found only one product contained the correct weekly guideline.
'Cannot be trusted'
Scotland's Chief Medical Officer (CMO) Dr Catherine Calderwood urged the alcohol industry to communicate the CMOs' health advice on product labels as a priority.
Dr Calderwood said: "People should be supported to make informed choices about their drinking and have a right to know about the harms associated with alcohol such as liver disease, heart disease and cancer.
"Providing information on labels is a crucial and effective way to give people health information and advice that informs their choices."
Dr Calderwood said she would write to the Portman Group on behalf of the UK nations' CMOs to raise the issue.
Professor Sir Ian Gilmore, liver doctor and chair of the AHA, said: "Once again we see that the alcohol industry cannot be trusted to provide the public with health information. The current system of self-regulation has clearly failed.
"The industry-funded Portman Group, which advises alcohol producers on labelling, no longer recommends its members include the Chief Medical Officers' guidelines on labels.
"We all have the right to know what we are drinking and the fact that alcohol increases our risk of seven types of cancer, liver disease, heart disease and stroke. Few of us know and understand these risks or are aware of the CMOs' advice.
"Alcohol companies should be required to display this information along with prominent health warnings, information on ingredients, nutrition and calories on alcohol labels.
"It's clear that without government requiring alcohol producers to provide this information, consumers will continue to be kept in the dark."