Labour cut funding for Dugdale defamation defence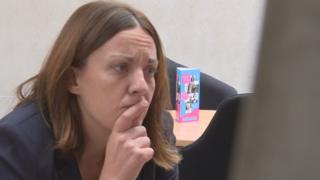 The Labour Party has pulled out of funding former Scottish leader Kezia Dugdale's defence in a defamation case.
The MSP is the subject of a legal claim by Stuart Campbell, who runs pro-independence blog Wings Over Scotland.
The UK Labour Party had previously paid for Ms Dugdale's representation in court, but has now cut this off.
Supporters of Ms Dugdale say she is shocked and angry about the decision, which she heard about through her lawyers on Monday.
Her successor as Scottish leader, Richard Leonard, said he understood that some people were upset with the decision, but said it "will stick".
Legal row
The legal dispute stems from a column Ms Dugdale wrote for the Daily Record newspaper in 2017, which was critical of a tweet posted by Mr Campbell about a Conservative MSP.
He wrote: "Oliver Mundell is the sort of public speaker that makes you wish his dad had embraced his sexuality sooner."
Mr Mundell's father - Scottish Secretary David Mundell - came out as gay in January 2016.
Ms Dugdale's column said she was "shocked and appalled" about "homophobic tweets", saying that it was "utterly unacceptable for someone to face abuse because of their sexuality".
She added that "such comments are of course not unique to the man who tweets as Wings Over Scotland", saying the account "spouts hatred and homophobia towards others".
Mr Campbell subsequently launched court action, arguing that the tweet was intended "though caustic, to be jocular" and saying the politician had defamed him by suggesting he was a homophobe.
Ms Dugdale's legal team submitted to the court that the article was a "fair and honest comment" criticising Mr Campbell for "giving voice to homophobic sentiments".
A sheriff ruled in August that a full "proof" hearing should be held for arguments to be put forward, saying the blogger was "entitled to an evidential hearing".
Ms Dugdale - who wants the case thrown out - is appealing against that decision.
However she has now been told that the Labour Party will not pay for further costs in the case.
A spokesman for the former leader - who was reprimanded by the party later in 2017 for leaving Holyrood to compete in I'm A Celebrity Get Me Out Of Here - said Labour had "wholeheartedly committed to paying all legal costs".
'Difficult decision'
Mr Leonard told BBC Scotland: "The decision has been made, it was made last week, and it seems to me that there will be undoubtedly people who are upset by it, but the decision will stick.
"I'm very limited in what I can say because there is a live court case.
"I realise this is a difficult decision that's been made. There are some people understandably upset by it, but the decision, as I read it, will stand."
A spokesman for Ms Dugdale said: "Given the principles on which it was founded - equality, fairness and justice - the UK Labour Party wholeheartedly committed to paying all legal costs associated with this case from start to finish.
"It is very much hoped that all promises will be kept."