Will Edinburgh become bigger than Glasgow?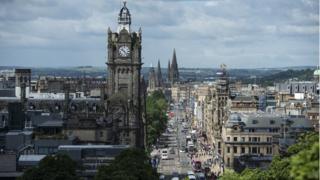 Edinburgh is Scotland's capital, and its seat of power, but Glasgow prides itself on having more heft because it is far bigger than its east coast rival. Glasgow still has a larger population but Edinburgh's council boss thinks it could soon catch up.
---
Glasgow's growth throughout the 19th Century was phenomenal, easily passing Edinburgh by the 1820s.
But its population peaked in the 1920s and 30s when more than a million people were densely packed into the city.
Since then the boundaries have been redrawn and many people have been moved out to new towns and estates lying beyond the city.
However, after years of decline Glasgow has been growing consistently since 2001, adding an extra 40,000 people over that time.
The 2016 figures from the National Records of Scotland put the population of the Glasgow City Council at 615,070, well above City of Edinburgh's 507,170.
The NRS's population projections showed Glasgow growing 4% over the decade from 2016 to 2026 and Edinburgh 7.7%.
Glasgow's population
Up or down?
658,978
Glasgow in 2041 (projected)
4% Rate of Glasgow's growth

7.7% Rate of Edinburgh's growth
Getty
Longer term, they predicted Edinburgh would rise to 583,135 over the next 25 years, still much smaller than Glasgow, which would be 658,978 by 2041.
However, City of Edinburgh Council chief executive Andrew Kerr told a Built Environment Networking event that growth would be quicker than predicted.
He said Edinburgh would overtake Glasgow by 2032.
According to the official NRS projections, Edinburgh will still have 85,000 fewer people by then (563,576 to Glasgow's 648,003).
Mr Kerr has repeatedly predicted that Edinburgh would overtake Glasgow and said the capital needed to prepare itself for a population of "not half a million, but three-quarters of a million".
The city's growth is down to net migration, people from the rest of the UK and overseas moving there.
In its population projections, the NRS warns that migration is difficult to predict, especially over long periods.
This will definitely be the case over the next few years, with the effects of Brexit on the overseas workforce being hard to know.
Mr Kerr did not comment on Brexit, saying just that the city's growth was an indication of how vibrant it was.
He said that, unlike other cities, Edinburgh's problem was not attracting people but managing the increasing pressure it put on housing, schools and transport links.
Births, deaths and migration
The chief executive said Edinburgh had the opportunity to grow along the shore from Granton to Prestonpans but it needed to be sustainable and maintain the quality of life enjoyed by those who live in Edinburgh.
The National Records of Scotland produces its projections every two years.
It said they were "trend-based", making assumptions about future levels of fertility, mortality, and migration based on the recent past.
It warns that they could be subject to significant changes, especially over longer periods.
Birth and death rates tend to change much more slowly than migration rates, which are the basis of all the growth in Edinburgh and Glasgow.
Glasgow City Council said it would not comment on Mr Kerr's claims.