BME people 'get worse mental health service'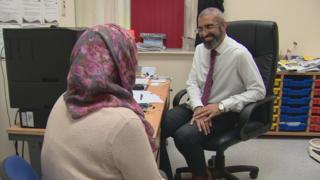 Black and minority ethnic (BME) groups in Scotland face unequal access to mental health services, people working in the community have told the BBC.
They said a lack of targeted support also resulted in worse treatment options.
Consultant psychiatrist Prof Sashi Sashidharan said there was a huge gap in the data available on ethnicity.
He said this stopped health boards and the Scottish government taking appropriate action.
It is recognised that cultural issues, language and stigma can be additional barriers to black and ethnic minority people when it comes to seeking help.
Doctors and support workers within the community said they were concerned that not enough was being done to provide appropriate early intervention.
They said that meant more people were being sectioned or experiencing more extreme forms of psychiatric treatment.
The Scottish government said reducing inequalities and addressing barriers was a priority, with a series of actions planned for this parliament.
It isn't accepted in our community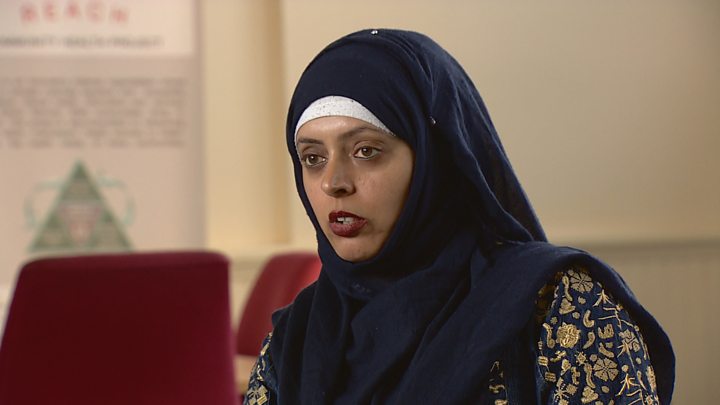 One patient, Maryium, told BBC Scotland that for a long time she would not speak about her mental health problems.
She said it was not accepted in her community.
"I was diagnosed with depression, anxiety and panic attacks," she said.
"I just found it hard to talk to somebody about it, hard to cope."
Maryium said she suffered from post-natal depression after the birth of her son but did everything she could to hide the problem.
She began to suffer again when her son was a teenager and she found it hard to deal with his behaviour.
Maryium said it was not her religion that stopped mental health being discussed, it was her culture and "old-fashioned" attitudes.
She eventually found help from a charity called REACH.
They provide health and wellbeing support for ethnic minority communities, which provides counselling in GP surgeries.
Additional barriers
Shabir Banday, the charity's director, agreed that people from BME communities faced additional barriers to accessing mental health help such as language, culture and stigma.
He said: "By having psychologists and counselling in the GP surgery you can often try to break the barriers.
"First you somehow normalise mental health as any other health issue, so you dilute the stigma which all the communities have."
Initial reluctance
Dr Asif Khan, a GP in the west end of Glasgow, said about 20% of his consultations related to mental health.
He said people from Asian-origin communities had similar issues with stress, anxiety and depression to his other patients but showed "an initial reluctance" to come forward and seek help.
Dr Khan said specific matters that caused mental health issues often related to inter-generational strife, marriage, sexism, cultural practices, housing issues and extended family.
"Patients will attribute their symptoms to lots of other things but they will not say it is a mental health problem," he said.
"When they finally overcome that barrier there are the difficulties in accessing proper care."
Dr Asif added: "Evidence shows that fewer individuals from the BME community are referred on for specialist help and when they are eventually referred they tend to be over-treated.
"Harsher psychiatric diagnoses are made, more patients end up being sectioned and there are worse outcomes."
It has been five years since research was published in Scotland that found inequalities in mental health care for minority ethnic groups.
The report showed Asian and Chinese people in particular were more were likely to be sectioned under the Mental Health Act and access help late.
'Very limited research'
Prof Sashidharan said the experience of those working in the field and the "very limited research" available suggested that people from the BME community were less likely to receive appropriate treatment away from hospital.
They were also less likely to get early intervention in the community or support and follow-up after being in hospital.
He said: "Generally it would appear that if you are from a minority ethnic group in Scotland you get a worse kind of mental health experience.
"Services either do not take your problem seriously or you end up receiving the most extreme form of care within psychiatric hospitals, through being sectioned in a hospital to receive help."
The consultant psychiatrist said: "This is a major problem in Scotland because this is what we see in day-to-day practice.
"This is what the minority communities, particularly the south Asian communities in Scotland, tell us."
Prof Sashidharan said: "A further problem in Scotland is the lack of information in relation to the experience of minority groups within mental health services.
"It is quite shocking that we do not collect systematic data on the use of mental health service by ethnicity, particularly being sectioned and the use of the Mental Health Act.
"There is a huge gap in the data that is available. This prevents us from understanding this problem. This prevents the health boards and the government from taking appropriate action."
The Scottish government said it recognised people from minority ethnic groups can find it hard to open up about their mental health.
They said reducing health inequalities and addressing barriers was a priority for this parliamentary session.