Dad asks: 'When did eyebrows become so important?' and rant goes viral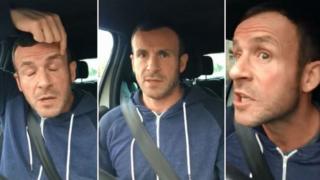 A comedian's video rant about his daughter's eyebrows has gone viral.
When Gary Meikle complained about 23-year-old Ainsley's obsession with having "bangin" brows, he had no idea so many people would share his pain.
More than fifteen million views and thousands of comments and shares later, he has become an unofficial anti-brow ambassador.
But the Glaswegian funnyman still doesn't know what microblading or an Instagram brow is.
It all started in early September when Gary took to his car to film a vlog about his daughter's current preoccupation.
In the film, he complains: "I've got a 23-year-old daughter who still lives at home and the hardest part of that, without a shadow of a doubt, is constantly having to remind and reassure her that her eyebrows are bangin'.
"What's happening ladies? When did eyebrows become the most important part of a woman's body?
"Now it's constantly: 'Do you like my eyebrows Dad, do you like my eyebrows?'"
His rant struck a chord and the number of views started rising.
People could relate to his predicament.
Gary told BBC Radio Scotland's Kaye Adams programme: "I just got into the car and went on a little rant.
"What women don't realise is that men don't notice them. The only ones we acknowledge are the very small percentage that look bad. About 99% of time we don't notice them [eyebrows].
"My daughter drives me mad. It's constant. I just agree with her but I am not seeing anything different.
"Men don't actually care about your eyebrows."
The three-minute video exploded on Facebook and was then shared on a nationwide social media account racking up millions of views.
Gary moans in the clip: "She'll post them on Instagram, Twitter, Facebook, Snapchat. They look the exact same! They look the exact same as they did before you had them done!"
Gary is a stand-up comedian and his daughter is often the source of his best material.
As a single dad, he ends up sharing all his parenting struggles with his audience. He even used Ainsley's periods as comedy content.
He said he ends up knowing far too much. "We talk about everything. The make-up, the dress sense. She treats me like her mum because I am her mum and dad. Most of the time I just smile and nod and tune in when I hear important words."
But how does Ainsley feel being social media famous... for her eyebrows?
Gary said: "She thinks it is hilarious that she's got the most popular eyebrows right now and that hundreds of people are now commenting on her social media!"
---
Why are we obsessed with eyebrows?
According to make-up artist and business owner Gillian Hoban from Inverness, brows have been the focus of make-up looks for a long time.
In recent years, the thick, full-eyebrowed look reigned supreme but Rihanna's September Vogue cover showed the superstar with her eyebrows seemingly removed and ultra-fine, pronounced arches pencilled in their place.
The UK brow industry is reportedly worth £20m a year.
Gillian said: "We probably notice them more than we think but only register the bad ones.
"Some of them are extreme and look like they've been drawn on with a Sharpie.
"I think they've always been important - each era has had their different style. The 20s had drawn-on and the 90s had pencil-thin ones.
"In 10 years we'll look back on these current ones as fashion."