Scottish hen harrier behaviour first caught on camera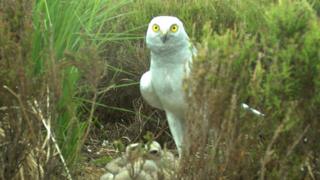 A Scottish conservation project has provided new insights into the lives of hen harriers, one of the UK's rarest birds of prey.
Nest cameras filmed male hen harriers standing guard over nests, and a hen harrier brood being hunted by owls.
The discoveries were made as part of the Heads Up for Harriers project, led by Scottish Natural Heritage (SNH).
A total of 27 Scottish upland estates took part in this year's study, with 17 nests monitored.
A male harrier was recorded spending up to 35 minutes standing over a nest, guarding the chicks when the female harrier was away.
This is believed to be highly unusual harrier behaviour. Normally, the only time a mother leaves a nest for the first six weeks is to briefly catch a food drop from the father.
Experts believe a fox probably played a crucial role in the loss of five chicks near Langholm, Dumfries and Galloway.
Once the mother hen harrier was scared away, by the fox, the nest was attacked by different types of owl.
Prof Des Thompson, chairman of the Heads up for Harriers group and SNH's principal scientific adviser, said, "This is exceptional. It's the first time we've seen a hen harrier nest under attack by two other raptors, one after the other."
"As ground-nesting birds, hen harriers already face extra obstacles in order to protect their chicks.
"That's why it's so important that we crack down on persecution against these vulnerable birds, which already face so many challenges to survive."
Brian Etheridge, project field worker forHeads Up for Harriers said: "We're also seeing new behaviour as part of the project.
"We're surprised in this case that the long-eared owl didn't take its prey away, but instead stayed at the nest for almost an hour.
"We haven't seen an owl behave in this way before and can't explain it at this point. We also don't know why the fox and the short-eared owl didn't eat the chicks when they had the chance."
The Heads Up for Harriers project aims to help conserve hen harriers with nest cameras monitoring the birds and trying to determine factors that affect chick survival.
This year, 30 young birds fledged from eight successful nests.
Four nests failed at egg stage and another five nests failed with chicks.
The primary reason for failure at chick stage was fox predation, however, owl predation and starvation due to adult birds not being able to provide enough food, also played a part.