Dundee V&A: Is this a bizarre joke?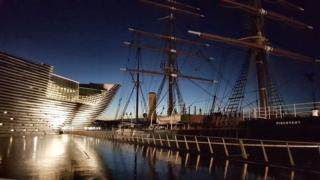 Writer AL Kennedy remembers the Dundee of her childhood as a grey landscape with few creative outlets but now she has been back to check out the changes in the city.
"Dundee gets a V&A. Wee Dundee.
"'I'm not sure, I think it's near Aberdeen', Tay Rail Bridge disaster, Dundee.
"Short people, short life spans, Dundee.
"McGonagall, worst poet in the world, Dundee (He wasn't even from here).
"Dundee - the easy punch line, the accent that doesn't travel, but it's getting a V&A.
"Is my small town birthplace suddenly becoming somewhere?
"Or has it always been here, and comprehensively ignored?
"My immediate reaction to the V&A news was to think of the 1970s.
"Dodgy developers, crooked councillors, enforced ugliness.
"Dundee was somewhere you shut up about, with no space for imagination.
"It was somewhere you left, taking your permanent cynicism with you.
"But now I'm back, slightly nervous.
"Are there really good sustainable things happening in Dundee?
"It's GQ's "coolest little city", it's in the Lonely Planet top 10 destinations in Europe - really?
"Is this some bizarre joke? Or do we have cause for hope?
"On the banks of the Tay, Phil Long, director of V&A Dundee, shows me beauty, free public space in Dundee.
"He says the museum is a really 'dynamic form'.
"It leans, it twists, he says, it projects out in to the river itself.
"It's a bridge between the river and the city."
"The museum almost echoes the prow of a ship, it almost echoes a full sail and it is the most successful grey I have seen in Dundee.
"Inside, Phil Long hopes the Scottish design galleries will be a 'revelation'.
"At the heart of the galleries will be a restored Charles Rennie Mackintosh Oak Room, given new heart-breaking prominence after the second Glasgow School of Art conflagration.
"There will be Wellies, tiaras, a 15th Century illuminated manuscript, signs of a wider renaissance in Scotland's sense of self.
"One that has even stretched this far.
"Even the Dundonian accent is speaking up for itself.
"My parents, who had removed their own working class accents, kept me from Dundonian as they would from Ebola.
"A whole way of thinking and speaking was widely dismissed as tainted with failure.
"But now Dundee puts Dundonian on tea towels and mugs.
"We like ourselves.
"And the language and culture of industry and particularly Dundee's historic jute processing is also being celebrated.
"When I was a young, maybe, writer in the early 1980s, the new purpose-built Dundee Rep theatre was all kinds of happy place.
"I was crazy about the theatre. It's a real passion. There hadn't been a repertory theatre here for a long time and suddenly we had a purpose-built building and it was astonishing. It was glorious.
"I last worked at the rep in 1985.
"In the intervening years a little thing called Grand Theft Auto was born in Dundee, the DCA (Dundee Contemporary Arts) arrived, Scottish Dance Theatre joined the rep and the wonderfully crazed arts students at the Duncan of Jordanstone college of art and design continued to infect Dundee with public art.
"There is a need for art, especially for people under pressure, low on funds, low on hope.
"There is never a question of why do people who can afford tuxedos and tickets go to the opera and enjoy it.
"Why is it that people with everything always get everything to enjoy?
"There is this strange assumption that people without money wouldn't have a more completely desperate need for something that was just beautiful.
"I started life working in the arts for marginalised people.
"It's like rocket fuel a key to all kinds of freedom.
"Could it actually be that the V&A - a piece of art containing other art - might be about to provide fuel and freedom for a whole city.
"Phil Long tells me he hopes it can help Dundee find its voice and be proud of its achievements.
"It is the first V&A outside London.
"It is the Museum of Design that Dundee is getting.
"What does it even mean, design?
"How about 'everything you live with'?
"Dundee is a city historically beset by ugliness and brutalism.
"The things we see every day tell us whether we matter, whether we are loved, have power.
"What if Dundee gets beautiful?
"Dundee may be embarking on an unprecedented exploration of how art can bring about positive change., economic resilience.
"I have no idea what will happen now but the genie is out of the lamp."
Designing Dundee is on BBC Radio Scotland on Thursday 13 September at 13:30 and was originally broadcast on BBC Radio Four. It is also available on the iplayer.