Nicola Sturgeon says Salmond inquiry 'must be fair to all'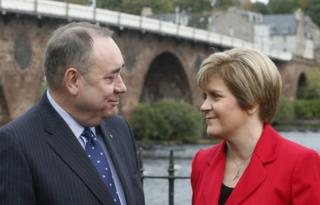 Sexual misconduct claims against Alex Salmond must be treated in a manner that is fair to "all parties concerned", Nicola Sturgeon has said.
The first minister said complaints could not simply be "swept aside because of the identity of the person involved".
And she said the priority should be ensuring "truth and justice prevail".
Mr Salmond, who strongly denies the allegations against him, quit the SNP on Wednesday evening.
The former first minister is taking court action against the Scottish government over its handling of the complaints.
Mr Salmond also launched a crowdfunding appeal to pay his legal costs, which surpassed its £50,000 target in a few hours but has been heavily criticised by opposition parties.
He has said he intends to apply to rejoin the SNP once he has had an opportunity to clear his name.
Ms Sturgeon told BBC Scotland on Thursday that the situation as a whole was "incredibly difficult" for her and the party she has led since Mr Salmond stood down in the wake of the 2014 independence referendum.
But she said women had to be confident that their complaints would be "treated seriously and fairly - and by fairly I mean fairly to all parties concerned".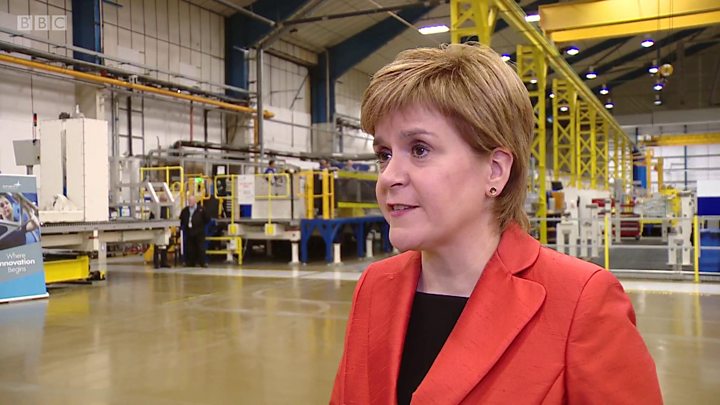 Ms Sturgeon also said she wanted a culture where people are able to come forward with complaints regardless of "how senior, how powerful, how well known or what the political allegiance is" of the person involved.
She added: "Whatever any of us do and say in the context of this very high profile case, we must absolutely make sure we don't make it harder for or discourage women from coming forward in the future. I think that is an obligation on all of us right now."
Ms Sturgeon, who has described Mr Salmond as being her "friend and mentor" for the past 30 years, also urged people to wait for the legal process to conclude rather than creating "some kind of media circus".
Mr Salmond, who was Scottish first minister from 2007 to 2014, released a video on social media on Wednesday evening announcing his resignation from the SNP but has not been available for interview.
He said he was quitting because he wanted to avoid potential divisions within the party, which has faced calls to suspend him.
It follows allegations, which emerged last week, from two Scottish government staff members about Mr Salmond's behaviour when he was first minister.
He has described the allegations, which are now being examined by Police Scotland, as "patently ridiculous".
In his statement, Mr Salmond said: "I did not come into politics to facilitate opposition attacks on the SNP and, with parliament returning next week, I have tendered my resignation to remove this line of opposition attack.
"Most of all, I am conscious that if the party felt forced into suspending me it would cause substantial internal division."
Crowdfunding appeal
The Scottish Conservatives said Mr Salmond's crowdfunding appeal was "astonishing" as it meant Scotland "now faces the incredible and unprecedented situation of its most famous former first minister appealing to SNP supporters for cash to take legal action against the government he used to run."
Scottish Labour MSP Rhoda Grant claimed Mr Salmond was "sending a signal to those who have made the allegations that he has the upper hand" and accused him of "dragging Scotland into the gutter".
Labour's former first minister, Jack McConnell, is among those who have urged people to instead donate to charities which help victims of sexual assault and harassment.
Ms Sturgeon, who retweeted funding appeals for Rape Crisis and Women's Aid on Thursday morning, said the crowdfunding appeal was a matter for Mr Salmond, who she said was "perfectly entitled to take his own decisions at this stage".
The Daily Record newspaper broke the news of the sexual misconduct allegations last Thursday.
The paper says it has seen wording of one complaint which describes an incident alleged to have taken place at the first minister's official residence in Edinburgh, Bute House, in the first week of December 2013.
The two women lodged complaints in January this year, just weeks after the Scottish government adopted a new complaints procedure in the light of wider concern about sexual harassment at Holyrood and Westminster.
---
Analysis by Brian Taylor, BBC Scotland political editor
Does this resolve all the issues for the party? Of course it doesn't.
There is an atmosphere of despair, a demeanour of despondency, around Team Sturgeon as they view the impact upon the party - it's a political problem for the SNP - and the cause of independence, which Mr Salmond believes he is partly ameliorating by stepping down while his court case is heard.
But there are problems within government as well.
It was Nicola Sturgeon who instigated the review of internal sexual conduct procedures within the Scottish government, the consequence of which would appear to be that a couple of complaints were raised in January following that review.
It is personal for Nicola Sturgeon as well, as she acknowledges in the statement she issued last night - Alex Salmond has been her friend and mentor for 30 years.
---
Mr Salmond claims that the subsequent investigation into the allegations against him by senior Scottish government civil servants was "unfair and unjust" - something Ms Sturgeon strongly denies.
He said he had been given no opportunity to "see and therefore to properly challenge the case against me" and that he had "not been allowed to see the evidence".
Mr Salmond has also claimed that someone within the Scottish government has "flagrantly and repeatedly" breached the confidential complaints process by leaking details to the Daily Record.
Conspiracy theories
In an article in the Times newspaper, the head of the FDA civil service trade union criticised Mr Salmond for singling out the Scottish government's most senior civil servant, Leslie Evans, for criticism.
In his original statement about the allegations last week, Mr Salmond said the permanent secretary had, "for whatever reason" decided to "mount a process against me using an unlawful procedure which she herself introduced".
Ms Evans has since become the target of online abuse and conspiracy theories.
She was last year tasked by Ms Sturgeon with reviewing new procedures for dealing with harassment allegations against current and former government ministers.
A new procedure was introduced with the blessing of Ms Sturgeon in December - but Mr Salmond has previously described it as the "Leslie Evans procedure".
FDA general secretary Dave Penman said: "If you want to give it a name, it is the Nicola Sturgeon procedure. It is owned by the Scottish government and, as Ms Sturgeon herself made clear, she agreed it in 2017.
"Mr Salmond's decision to attack the integrity of Scotland's most senior civil servant is no accident. He would be aware that his supporters would jump on this bandwagon."
Mr Penman also said that, as a former first minister, Mr Salmond "knows that Ms Evans is duty-bound to investigate complaints".