'Huge' decline in rare seabird numbers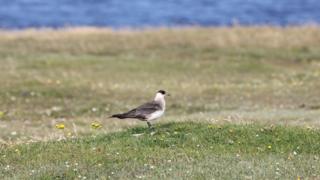 Scotland's population of Arctic Skuas could become extinct if the decline in numbers is not halted, according to a study by the RSPB.
It believes there are just 550 pairs of the seabird left in Scotland, a fall of 81% since 1992.
The study looked at 33 colonies in Orkney, Shetland and Handa.
It identified a reduction in the availability of sandeels to Arctic skuas at the crucial time of year they need to feed their young.
The study was carried out by the RSPB's Centre for Conservation Science and published in the Journal of Animal Ecology.
The Arctic Skua is a thief - it waits for other birds to dive for fish and then swoops in to take its spoils. But the scientists behind this latest research said the availability of those spoils was diminishing.
The colonies studied by the researchers hold about a third of the UK's breeding population of Arctic skuas, all of which are found in Scotland.
In these colonies the population of breeding pairs fell from 1,061 in 1992 to just 200 in 2015.
If such declines have been replicated at the other Arctic skua breeding colonies it could mean as few as 550 pairs are left in Scotland
Dr Allan Perkins, senior conservation scientist at RSPB Scotland and the study's lead author said: "We've known for many years that Arctic skuas numbers have been going down in Scotland but this study reveals just how bad the declines have been at some of their most important breeding sites.
"Lack of food has been the biggest pressure for these birds and shows just how vulnerable our seabirds and marine life are; as sandeel numbers have declined around these key north-east areas in Scotland the whole food chain is impacted.
"If these sharp declines continue, it's possible that Arctic skuas will be lost as a breeding species in Scotland."
What is an Arctic skua?
They are medium-sized seabirds with pointed falcon-like wings and long pointed tail feathers.
Unusually, there are two colours types; dark brown all over, or a dark brown back with white face and chest.
They are rare red-listed breeding birds in the UK.
They are known as the "pirates" of the seabird world because they steal their food from other seabirds - a behaviour called kleptoparasitism.
The study authors also looked at the local populations and breeding successes of four other seabirds - kittiwakes, guillemots, puffins and Arctic terns - who Arctic skuas often steal food from.
Populations of these four species are known to be declining in many of the Arctic skua's historical strongholds.
The study found each breeding pair of Arctic skuas was now producing an average of 0.3 chicks compared with 0.9 in 1992.
This coincided with steep declines of the four other seabirds at nearby colonies also showing the severe impact of the reduction in food availability.
Peadar O'Connell, RSPB Scotland's marine policy officer said: "This study provides a shocking snapshot of how Scotland's Arctic skuas are doing and an indication of how other seabirds are also faring in north east Scotland.
"To protect Scottish seabirds, now and into the future, we need to ensure Scotland can provide safe places for them to breed, and secure protected areas for them at sea to feed."