New chief urged to tackle police 'misogyny'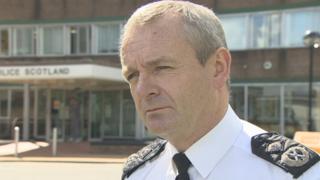 Two female former police officers have said more needs to be done to tackle sexual inequality and misogyny within Scottish policing.
Angela Wilson and Karen Harper said sexual discrimination and bullying were still a major problem.
And they claimed there was little support over issues mainly affecting female officers.
New Chief Constable Iain Livingstone said any suggestion of a deep-rooted problem was "unfair".
Mr Livingstone, who was announced as the new chief of Police Scotland on Wednesday, also told BBC Scotland he would take any concerns "extremely seriously and deal with them" in his new role.
However, Ms Wilson and Ms Harper claimed the issues are part of an ingrained culture which needs to be addressed.
Ms Harper was a constable for 22 years but retired last October through ill health.
As a single parent, her request for flexible working hours allegedly resulting in bullying.
When Ms Harper complained, she claims she was targeted in a "black op" in a failed attempt to criminalise and discredit her.
Ms Harper, whose sexual discrimination claim against Police Scotland is being contested, said: "I put up with the discrimination, the misogyny against me for years and worked, I believe, within a toxic work culture.
"But I was terrified to put anything in writing, terrified to speak up because I knew that there would then be repercussions against me.
"The only way I could challenge the culture was to put it in writing. I did put it in writing, then I was victimised."
'Disdain for women'
She said the force could be "quite a hostile environment" for women, particularly those who were working part-time or flexibly due to family commitments.
Ms Harper added: "For example, I met a supervisor who was my new line manager. I sat across from him and he looked me up and down and said 'I run a tight ship here and I'll be checking your hair, your uniform, your boots every day to make sure you meet my standards'.
"I don't believe he would have spoken to a male officer like that.
"There's a certain disdain for women and it just permeates. The culture's there. It's there on a day-to-day basis and I think for a lot of female officers they've normalised it."
Ms Harper has made a written submission to the Scottish Parliament's justice committee, which is examining the first five years of Police Scotland.
She believes that the introduction of a fair, transparent and independent complaints process - for whistleblowers and members of the public - is necessary.
She says that while she enjoyed her time serving the public, she would warn any woman considering a police career to think again.
'Dissent not tolerated'
She said: "I wouldn't advise them to join the police force because I think there is the rhetoric and there's the public face of Police Scotland.
"You put up and shut up. Dissent is not tolerated, certainly not tolerated when a woman speaks up.
"Every cop within Police Scotland knows that. It's seen as a joke within Police Scotland that if you go against management they'll come after you."
In 2003, Mr Livingstone was accused of sexually assaulting a female junior officer at the Tulliallan police college three years earlier.
He was suspended by the force before later admitting he had acted inappropriately by falling asleep in the woman's room, although he was cleared of any sexual misconduct.
Mr Livingstone was initially demoted from superintendent to constable before being reinstated after an appeal.
He told the BBC earlier this year that he had too much to drink at a social event at the college, and had fallen asleep "in the wrong place", adding: "That was wrong, I shouldn't have done that".
When Angela Wilson, the former deputy chief constable of Tayside Police, publicly questioned whether Mr Livingstone's past should preclude him from the top job, she was subjected to online vitriol.
Calum Steele - general secretary of the Scottish Police Federation - used Twitter to call her "one of the most incompetent imbeciles ever to have held rank in the police service", a "buffoon" and falsely stated that a corruption inquiry "extended" to her.
Mr Steele also described Mr Livingstone as "one of the most talented, able, skilled and resilient police officers that exists anywhere in the planet".
Ms Wilson - who is now chair of the Women's Rape and Sexual Abuse Centre in Dundee - welcomed Police Scotland's upholding of her complaint against Mr Steele.
However, she believes it highlights that the federation, which represents 18,000 police staff, can be perceived to be too close to senior management.
She said: "When people very senior in the federation make sycophantic comments about the chief constable, I'm not sure the rank and file officers feel that they are sufficiently represented and it is independent."
Ms Wilson says during her career she took pride in pushing for an increase in female officers, and for more women in promoted posts, but believes more needs to be done.
She said: "We worked very hard at a senior level to get policies and procedures put in place that would help with things such as flexible working, women returning to work after having family.
"I think at the highest levels the policies and procedures are there, it's just unfortunate these are not always applied fairly across the whole force and sometimes it comes down to who your senior officer is or who your boss is and how they apply it.
"Anything positive is a step forward but we need to go far further."
Last month Deputy Chief Constable Fiona Taylor became the most senior female officer within Police Scotland.
And Mr Livingstone said any claims that the force had a major problem with sexism or misogyny "misrepresents policing in a very unfair manner".
He added: "We've just appointed five chief officers to the new team, three of them are women.
"I want to continue to encourage the support for whistleblowing, I want to continue to encourage people to raise things, to speak openly.
"I am open, I am listening, and I want all the leaders in Police Scotland - and that is every single man and woman who serves whether as a police officer or a member of police staff - to conduct themselves with dignity.
"If there are concerns I will take them extremely seriously and deal with them."
Susan Deacon, chair of the Scottish Police Authority, said she wanted Police Scotland to better reflect the people it serves.
She said: "I think we must constantly work to make sure our police service and its leadership reflects the communities it serves in every respect."
Ms Deacon described the newly-promoted senior female officers as "excellent role models", adding: "I'm very positive, very optimistic about the future of women in Police Scotland.
"And yes, of course, we'll expect the chief constable to be continuing to support that increased diversity going forward."