Born Famous: Poverty safari or positive experience?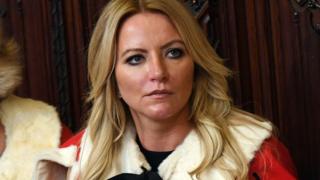 A new reality TV series in which celebrity offspring spend a week living in the place their parents came from has sparked a row long before it even airs.
Among the four youngsters taking part in Born Famous is Bethany Mone, the 19-year-old daughter of Michelle Mone, the entrepreneur who made her name with her Ultimo bra company and now sits in the House of Lords as a Tory Peer.
Lady Mone grew up in Glasgow's east end so her daughter was sent the city's Bridgeton area to spend a week living with a teenager from the community where her famous parent came from.
The producers claim teenagers will "confront feelings of privilege, class and celebrity and uncover the realities of social mobility in 2018".
Although no-one has yet seen the programme and no date has been confirmed for its broadcast, reports of Bethany taking part in the show have led to Lady Mone defending her daughter and attacking her critics.
SNP MP Alison Thewliss, whose Glasgow Central constituency covers Bridgeton, said the idea behind the programme was "utterly despicable exploitation" of a close-knit community.
She tweeted: "No area deserves 'poverty safari' treatment, but particularly cruel of @MichelleMone to use East End roots to pick on Bridgeton, which has seen change led by local people."
Glasgow comedian Janey Godley said Lady Mone was a Tory who "voted against giving the poorest people decent living benefits and now wants to do a 'Bridgeton Kardashian' to give her daughter some air time."
On Twitter, Lady Mone responded by saying: "My daughter Bethany has had an invaluable & overwhelmingly positive experience filming recently.
"It's so disappointing that people have made a snap judgement on what the series is about and I hope they will reserve further judgement for when they are able to view it."
The peer, who grew up in nearby Dennistoun, said she had "so much respect for my background, home and the people of Glasgow especially the East End which you'll be able to see very soon".
She rounded off her comments by saying: "Another SNP moron opening their mouth again without knowing the facts and trying to cause trouble." She then blocked Alison Thewliss's tweets.
Author and community activist Darren McGarvey, also known as Loki, recently won the Orwell Prize for his book Poverty Safari.
The judges described his writing as a heart-rending exploration of working class life.
He told BBC Scotland's Good Morning Scotland programme he had not seen Born Famous but he felt he had seen similar shows that "exploited" the class divide in the UK.
He said he was concerned that Channel 4 had decided "to send in a couple of gold-plated wrecking balls to get to the bottom of the corrosive class disparity that is tearing our country apart".
"I personally don't have anything against Michelle Mone or her family," he said.
"If they have roots there, it is not for me to say how they explore that and while I think the programme is distasteful and immutably crass, at the same time, I am sure that something entertaining can be contrived from it, using soundtrack, editing and making local people look stupid."
Talent agent and fan of reality TV Sonia Scott Mackay told Good Morning Scotland: "I think it is going to make great television.
"I hope that they will be sensitive to the nature of the people that are in the show.
"I think it is going to be a great insight to see that people can go from a poorer background."
Negative image
McGarvey said Born Famous was part of a genre of television which was cheap to make and did not require much research.
He said: "It's really about putting fame and wealth front-and-centre as something to aspire to and using communities that are genuinely challenged and that are recovering not only from a negative image but from various other converging difficulties.
"It trivialises the issue of social inequality."
McGarvey said there were many social issues that needed to be explored but it should be done by "thoughtful, balanced, erudite television programming".
"My issue is with executives in television land who demand this kind of low-grade socially-toxic drivel from increasingly desperate production companies who could be training their eyes on something a bit more meaningful," he said.
Ms Scott Mackay said: "Television does do great documentaries about different subjects on social things, such as human trafficking.
"The BBC have done some amazing documentaries but they do that in a different way.
"This is a different style of show."
She pointed to Channel 4 programme The Secret Millionaire as a show that used the reality format but had a positive message.
She said: "I thought that was very sensitive and I thought these people did something about it and a lot of people that have been successful do lots of work for charity and raise millions of pounds."
Born Famous will also feature Jack Ramsay, son of the TV chef Gordon Ramsay, and Phoenix Chi, who is the daughter of the Spice Girl Mel B.