Edinburgh University's spare places will go to people from deprived areas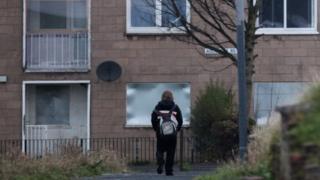 One of Scotland's most prestigious universities will give all of its spare degree places to people from disadvantaged areas.
The University of Edinburgh is keen to meet a Scottish government objective to increase social diversity in the student population.
To help achieve that it will use this year's clearing process to award places to those from deprived areas.
Clearing matches applicants to courses that have yet to be filled.
The process of clearing was opened on Tuesday after thousands of students in Scotland found out their exam results.
The overwhelming majority of free places available to Scots, and applicants from other EU countries, are now filled.
They were either allocated to students who were given unconditional offers before the exam results or have been given to those who, following learning their results on Tuesday, achieved the grades to meet their conditional offers.
No cap on fee-paying students
But what about the applicants who missed out because their results weren't good enough?
Any spare places - about 1% of the total - are put into the clearing system, although in recent years a relatively small number of places have been available to Scots.
About 1,700 Scots got a university place through the clearing system last year.
However, the numbers are not split evenly between different institutions and some of them do not take part at all.
For the second year in a row, Edinburgh - which did not put any places at all for Scots into clearing before 2016 - has decided to use these spare places to help it achieve the government objective on increasing those who are socially disadvantaged.
Universities are expected to gradually increase the number of students from the most deprived areas of Scotland - so-called SIMD 20 postcode areas.
SIMD 20 is seen by some as an imperfect measure as it does not take account of personal circumstances.
To add to the frustration, some disappointed families may feel places could be available through the clearing system to prospective students from England, Wales and Northern Ireland.
This is because they pay tuition fees - universities can decide how many fee-paying students to take in. There are no caps.
Following exam results day, a free helpline 0808 100 8000 is now available for anyone seeking practical advice. It is open until 20:00 on Wednesday. The Skills Development Scotland line will then be open from 09:00 until 17:00 from 9 to 15 August.
The issue does reflect a long-standing worry of some in academia - while they support widening access, they have warned that unless the total number of free places grows it could become harder for all those from other postcode areas to get in.
While few in academia support Brexit, some hope the free places currently given to EU students to meet legal requirements will go to Scots in future to help ease this concern.
Although relatively few places in clearing are available to any Scot, experts say applicants should still check them out.
Glasgow University is also using the clearing system specifically to help applicants from SIMD 20 areas get a place.
However, they say all these unfilled places were only available to SIMD 20 backgrounds to begin with because of agreements with the Scottish Funding Council.
A spokesperson explained: "The number of applicants from SIMD20 areas has decreased nationally in 2018, while our target has increased, making it more challenging to meet the SIMD20 target.
"Therefore, we have entered clearing to fill the increased number places for SIMD20 residents.
"We have already filled the places for non-SIMD20 residents, meaning we do not need to enter clearing for this area. "
Missing out on a place this year does not mean that someone could not apply again next year and get accepted - especially if they get more qualifications or experience.
So, two Scottish government policies which enjoy broad support in universities do still have a downside.
Both free tuition and widening access targets have their practical consequences.