Scottish exam results 2018: Higher pass rate 'stable'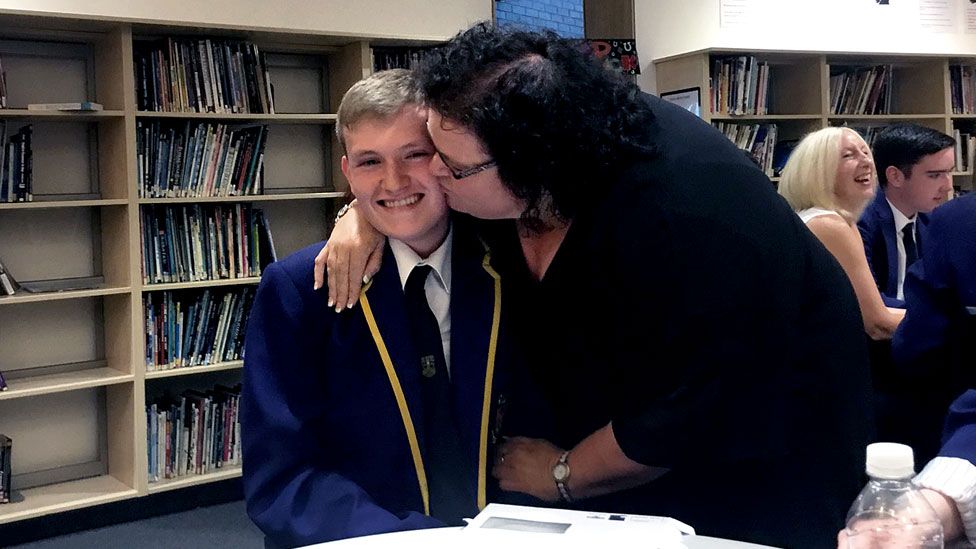 The pass rate for this year's Higher exams was "broadly stable", Education Secretary John Swinney has said.
He was speaking on the day more than 135,000 pupils in Scotland found out how they had done in their National 5s, Highers and Advanced Highers.
The number of entries for Highers and the proportion of students who received a pass mark both fell slightly.
Mr Swinney said it was "another very strong performance by young people in Scotland".
He told the BBC: "We've seen the number of Highers broadly stable and consistent in terms of the pass rate, despite the fall in pupil numbers who are involved in S5 and S6 within Scottish education."
There had been a doubling of skills-based qualifications over the last six years, which was "crucial for young people entering the labour market", along with "really strong performances" in Advanced Higher and in National 5.
"It is a really great achievement by young people - I congratulate them," said Mr Swinney.
All students have received their results by post but about 59,000 also opted to receive them by text or email.
A free helpline 0808 100 8000 is available for anyone seeking practical advice. It is open from 08:00 until 20:00 on Tuesday and Wednesday. The Skills Development Scotland line will then be open from 09:00 until 17:00 from 9 to 15 August.
There were 147,000 Higher passes, with a pass rate of 76.8%, compared with 77.0% in 2017.
The results showed a record number of entries for Advanced Higher (24,331) since changes to the qualification were made in 2015/16, with attainment rates remaining high at 80.5%.
Ucas figures show that 29,830 students from Scotland have had their university applications confirmed. This is a 4% increase in acceptances despite an overall fall in the population of 18-year olds.
There has continued to be a drop in university acceptances for EU students.
Detailed analysis of the results at subject level showed:
A continued rise in passes in Mathematics at Higher and Advanced Higher
National 5 Application of Mathematics pass rate up 11.3 percentage points
Pass rates for English up 5.3 percentage points at Advanced Higher level
Pass rates for English at Higher level down by 1.4 percentage points
Pass rates for English at National 5 level down by 2.4 percentage points
Skills-based qualifications increased to 50,305 this year - more than double the number in 2012
Mr Swinney said that in the first year that unit assessments were removed from National 5, the overall pass rate remained high at 77.4%.
He added: "It is clear that our young people have performed strongly, against rigorous standards, and are now in an exciting position to decide what they go on to do next," he said.
"Results day is the culmination of months of hard work and it is important to remember that, whatever the outcome, it is only the beginning of a journey.
"Anyone who did not receive the results they had hoped for, or who is just unsure about their next steps, should get in touch with the SDS exam helpline for access to expert careers advice."
Analysis by Jamie McIvor, BBC Scotland education correspondent
The main interest often lies in the Higher results - seen as the gold standard of the qualification system.
The Highers were modified in 2015 to tie them in more closely with the National 4s and 5s which effectively replaced Standard Grades. Since 2016 only the modified Highers have been on offer.
The proportion of Higher entries which achieve a pass is broadly stable but has declined for three years in a row.
This year 76.8% of entries were marked at Grade C or above compared with 77% last year and 77.2% in 2016.
The total number of entries has also fallen each year.
The SQA also provided information about individual subjects.
The number of entries for Higher English rose but the proportion of students who passed fell.
This year there were 36,185 entries - 75.9% passed. Last year's pass rate was 77.3%
The opposite happened in Higher Maths. The number of entries fell but the proportion that passed rose.
This year there were 18,753 entries - 74.5% passed. Last year's pass rate was 74%.
Figures like these will be viewed as representing a broadly stable system.
Some may wonder why the overall proportion of candidates passing has declined for three years running - however if the number had risen for three years some might wonder if this was a sign of the exams getting easier or of "teaching to the test".
"I got five As," he revealed.
"It is what I hoped for. I will go back for 6th year now and take those results and see what the uni courses offer and then decide what course I want to do."
The Scottish Qualifications Authority (SQA) is also issuing awards in Skills for Work courses, National Progression Awards and National Certificates for Scottish students.
Commenting on the Ucas figures, NUS Scotland president Liam McCabe said: "While it is encouraging to see a modest rise in the proportion of Ucas acceptances for those from the most disadvantaged backgrounds, we can't lose sight of the fact there is much more to do to ensure more students from the poorest areas make it into higher education.
"We need to see every institution - without exception - pulling their weight to change the current culture and boost admissions for these students."
The Royal Mail said staff have been "pulling out all the stops" to ensure results arrive as quickly as possible, with deliveries taking place across the world as many Scots are abroad for results day.
Julie Pirone, director of external relations at Royal Mail, said the service had been working with partners in 45 countries to ensure results reached pupils.
Certificates have been issued to more than 135,000 candidates
More than 758,000 exams were taken between 30 April and 4 June
Exams were taken in 480 schools and colleges
Almost 59,000 candidates received their results by email and/or text
Related Internet Links
The BBC is not responsible for the content of external sites.