ScotRail launches smart mobile ticketing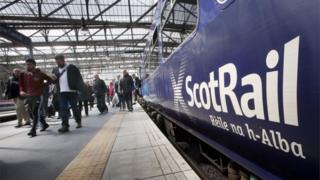 ScotRail has announced the launch of a mobile ticketing pilot allowing customers to buy, store and use tickets directly from their smartphone.
Using near-field communication (NFC), customers will be able to tap through ticket gates using their phone.
The rollout will be phased in over the coming months, starting with popular single and return tickets.
A small group of customers will begin the pilot, with a wider rollout across the network planned in future.
Travellers will be able to skip the queue at ticket vending machines reducing the need for paper tickets or plastic cards.
'Anytime, anywhere'
Lesley Kane, commercial director at ScotRail said: "This pilot app delivers the convenient, easy access to tickets and travel that we know our customers want.
"Over the coming months, customers will be able to buy and download digital tickets from a single app, anytime, anywhere."
The smart ticketing system is provided by Californian-based Rambus who already work with Strathclyde Partnership for Transport and Lothian Buses.