Endangered red squirrel dies trapped in plastic jar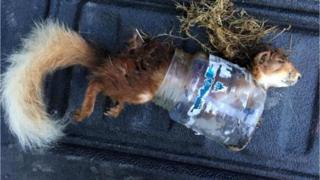 An endangered red squirrel has died after becoming trapped inside a discarded plastic jar.
The animal was found by a busy roadside after it had obviously suffered a prolonged and painful death.
Grampian Moorland Group shared the images on its Facebook page to warn people to dispose of their rubbish responsibly.
Saving Scotland's Red Squirrels Project said it hoped the "distressing" images would help educate the public.
The squirrel can be seen with the front half of its body stuck inside the clear plastic jar.
Its head can be seen poking through a cracked piece of plastic at the bottom of the discarded container.
It is believed the animal had found the jar, tried to get at food remains inside and cut its throat whilst trying to pull itself back out.
One of the squirrel's claws can also be seen poking out from another cracked area suggesting it had tried to claw its way out.
There are estimated to be only 160,000 red squirrels remaining in the UK, 75% of which are in Scotland.
The disturbing images are another example of the dangers that littering has on wildlife.
'Hazardous to wildlife'
The BBC's Blue Planet 2 raised awareness of plastic pollution after showing footage of whales and turtles harmed by waste.
Grampian Moorland Group wrote: "Discarded plastic proves hazardous to wildlife.
"One of our gamekeepers found this poor soul in a plastic jar, at woods, next to the busy main road, a popular scenic and tourist route.
"This isn't a positive #wehavewildlife post this evening, but hopefully it will highlight the importance of discarding your rubbish appropriately."
They ended the post with the hashtags "#redsquirrel", "#endangered", "#plastic" and "#gmg".
The post was shared over 100 times and attracted dozens of comments from furious followers.
John Jones said: "Idiots might as well have left a trap!"
Christine Bell wrote: "Poor little beggar, as if there isn't enough for them to compete against within nature without mankind having a further hand in it."
Joanne Hammond Wiggins said: "Poor little sausage."
Dr Mel Tonkin, Saving Scotland's Red Squirrels Project manager, said: "It is deeply distressing to see any animal suffer in this way, and it is tragic that a single piece of plastic has caused the death of a protected species.
"After years of decline, red squirrel populations are only just beginning to recover in Scotland thanks to the collective efforts of volunteers, landowners and conservation organisations, but there is still a long way to go.
"Litter is indiscriminate in its impact, and each thoughtless act can have serious consequences for our country's special wildlife."
Other species have also fallen victim to discarded waste.
Earlier this week, it was reported a red deer died on Rum after getting trapped in a piece of fishing gear while foraging on a sea shore.